Become a DogFriendly Member & receive:
Bi-monthly e-magazine
County guides & Dog walking guides
10% Discount on 100s of dog friendly properties
Home /

Hound and Human Holidays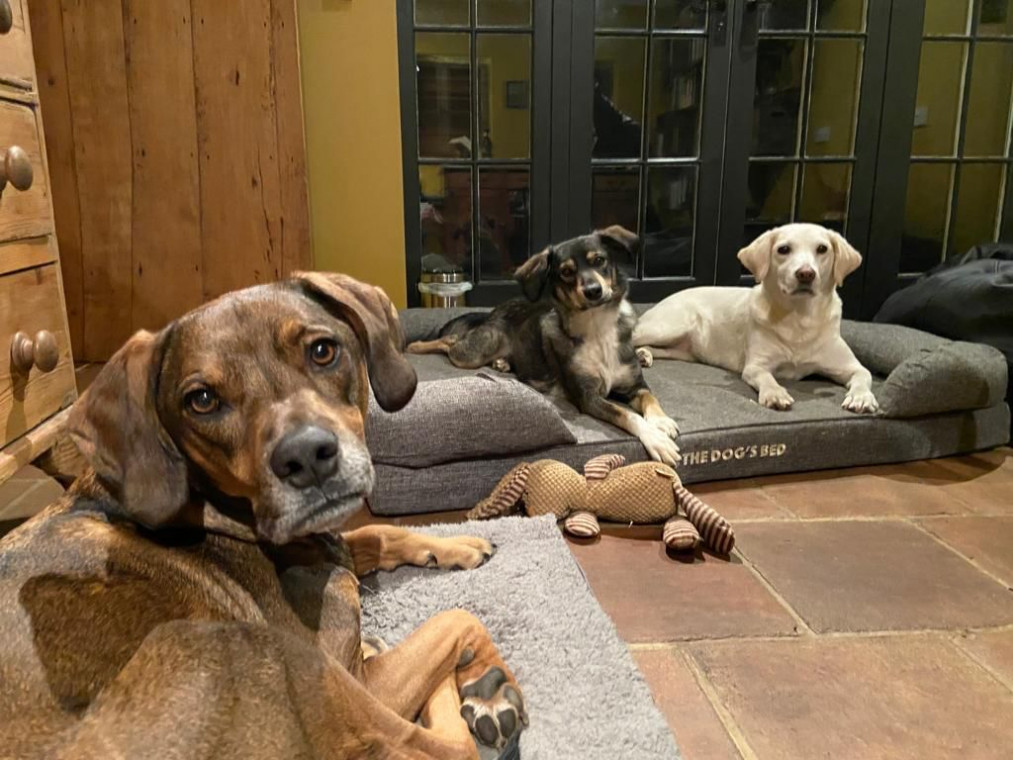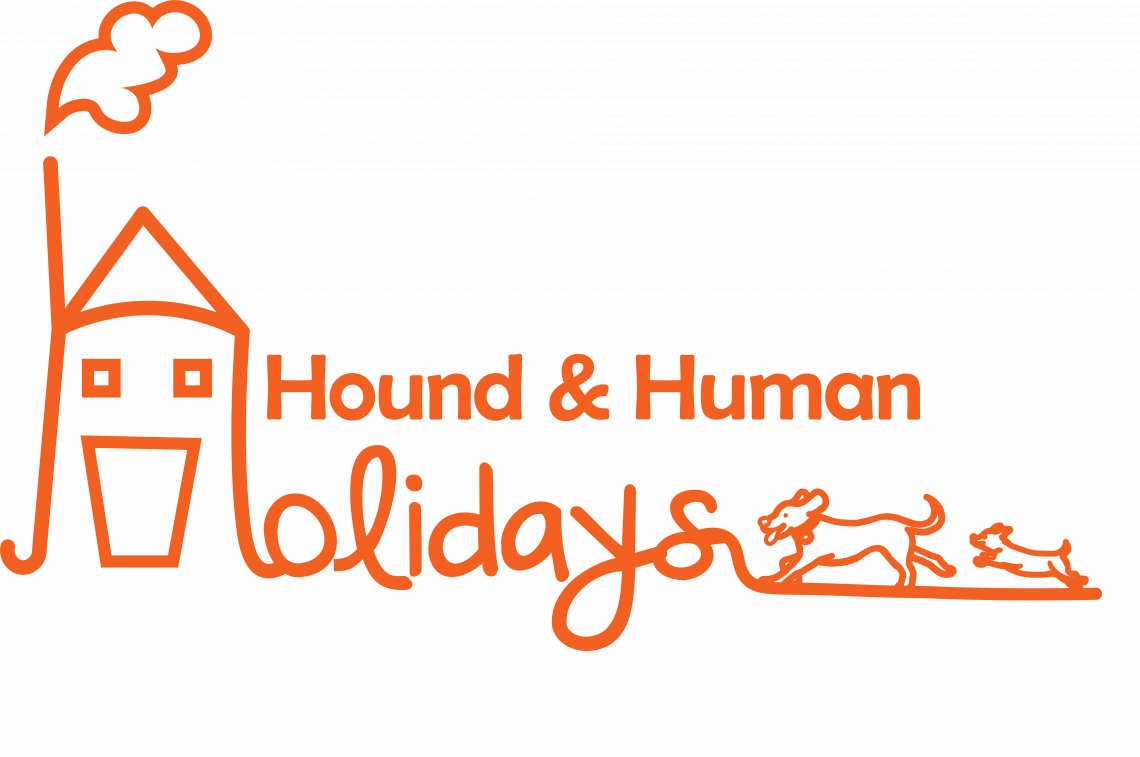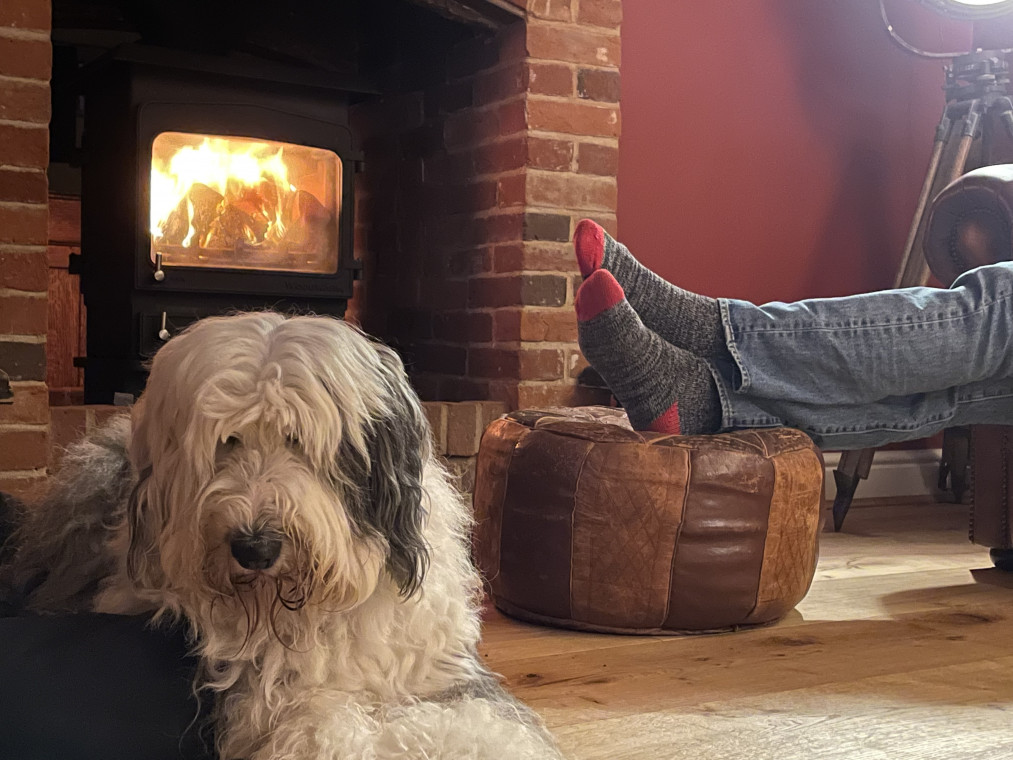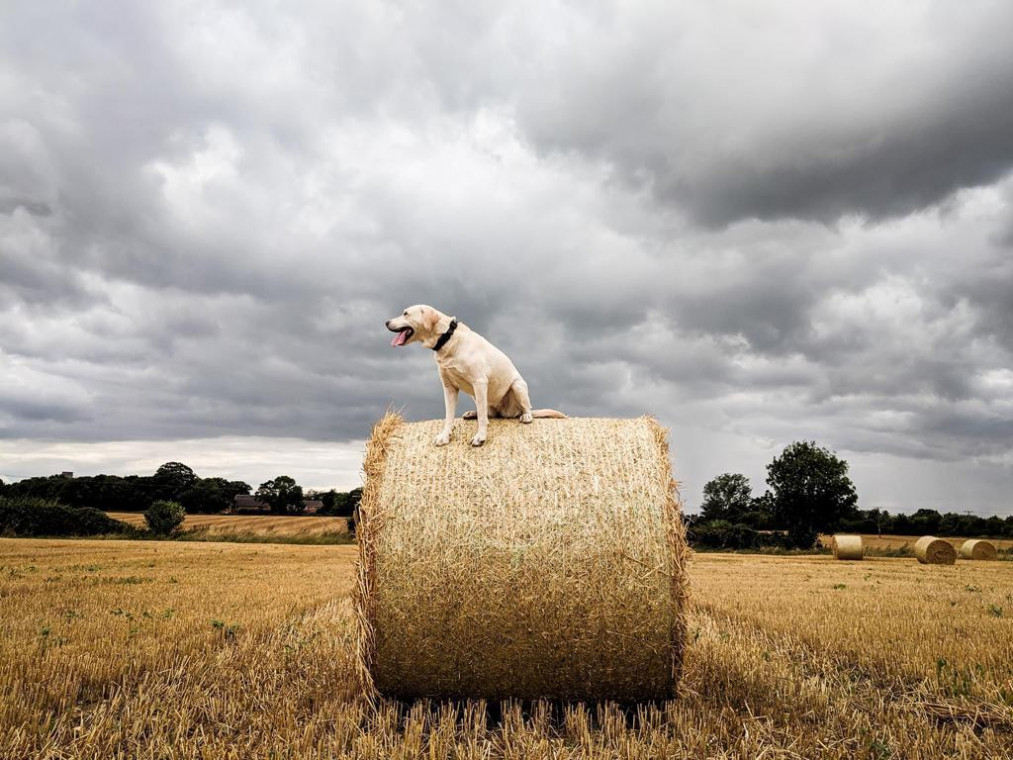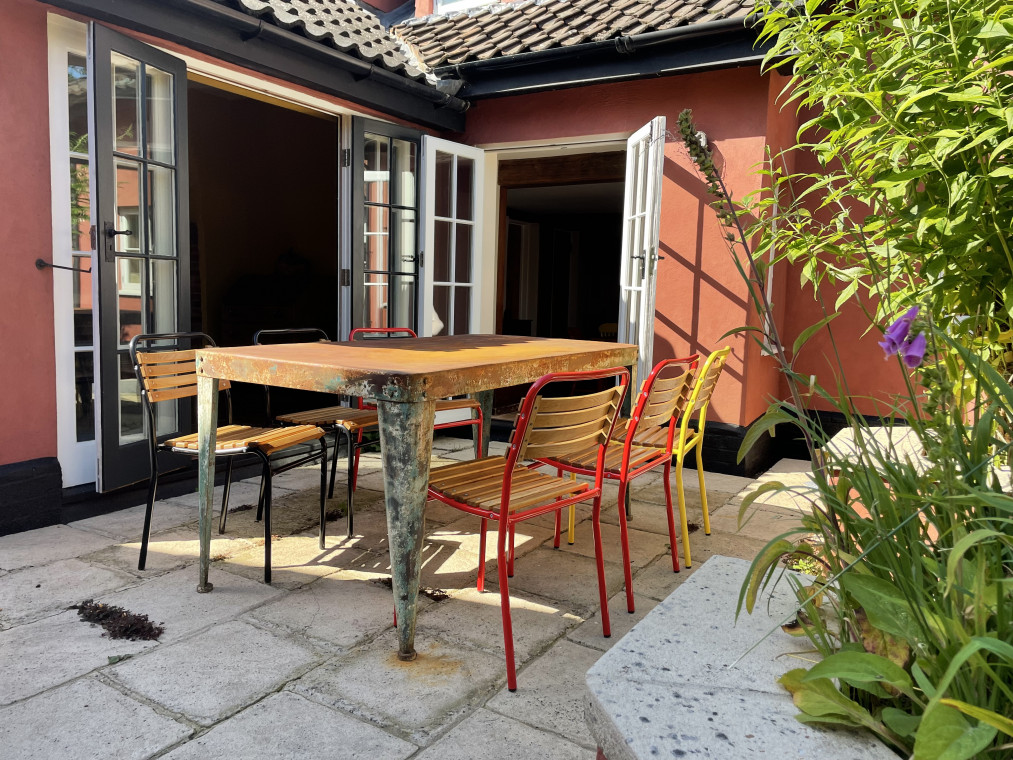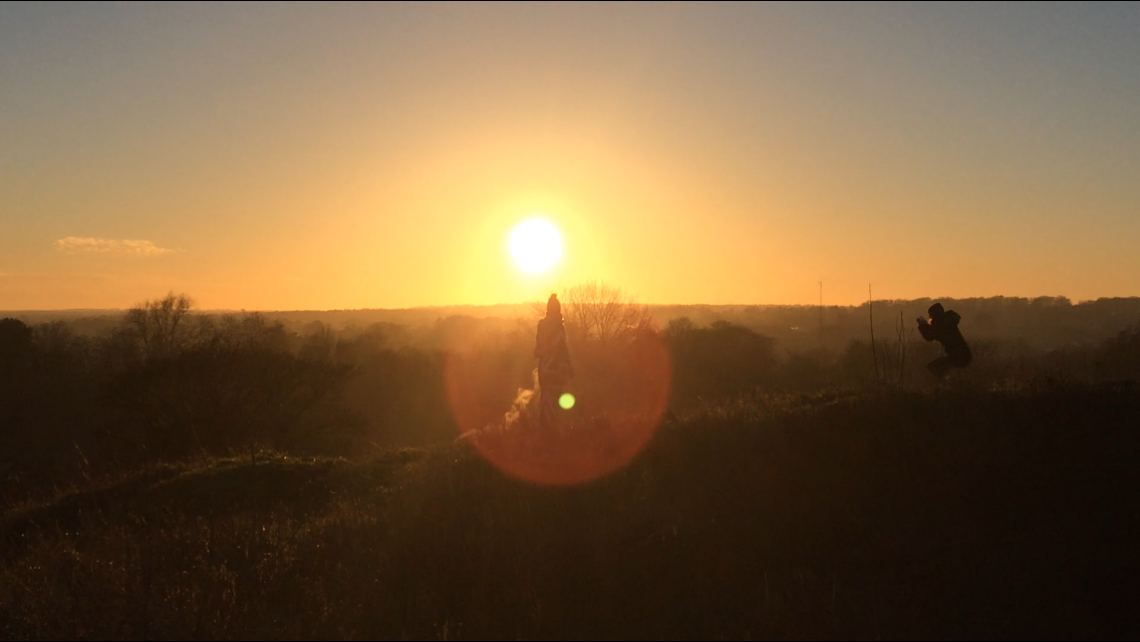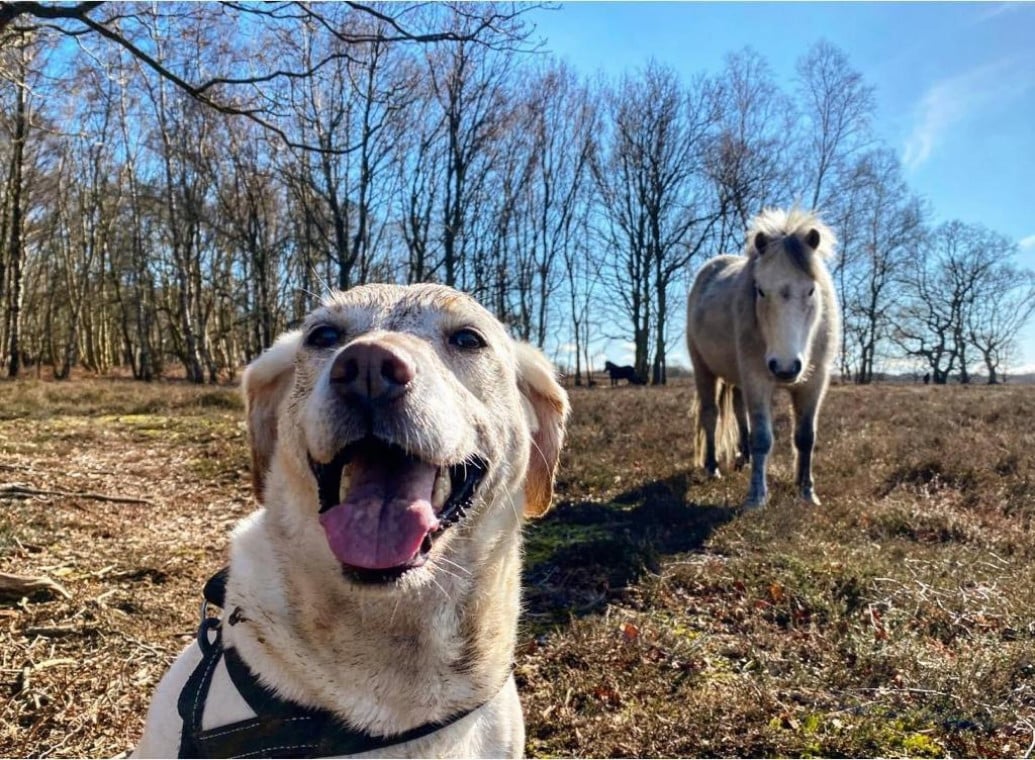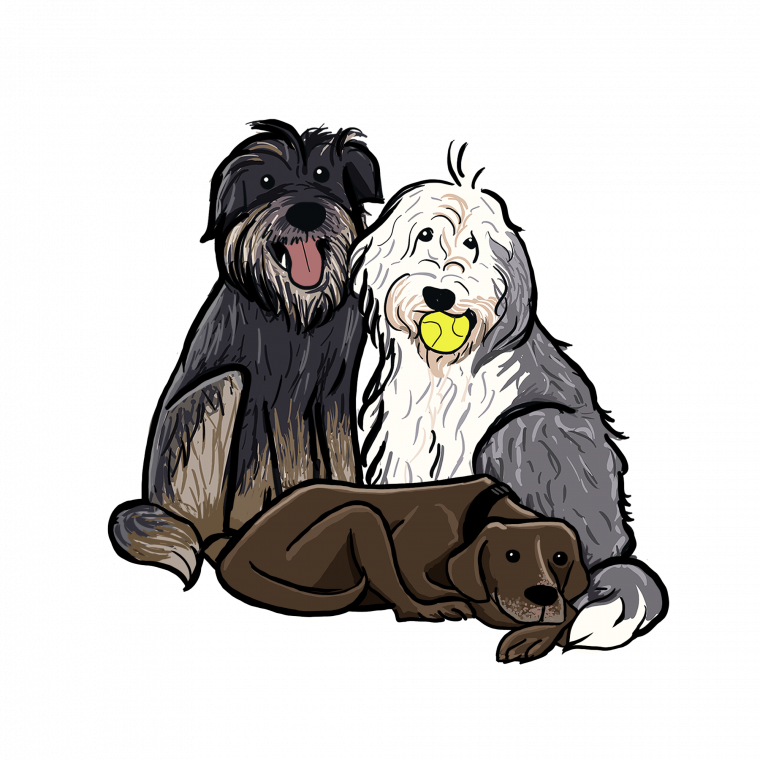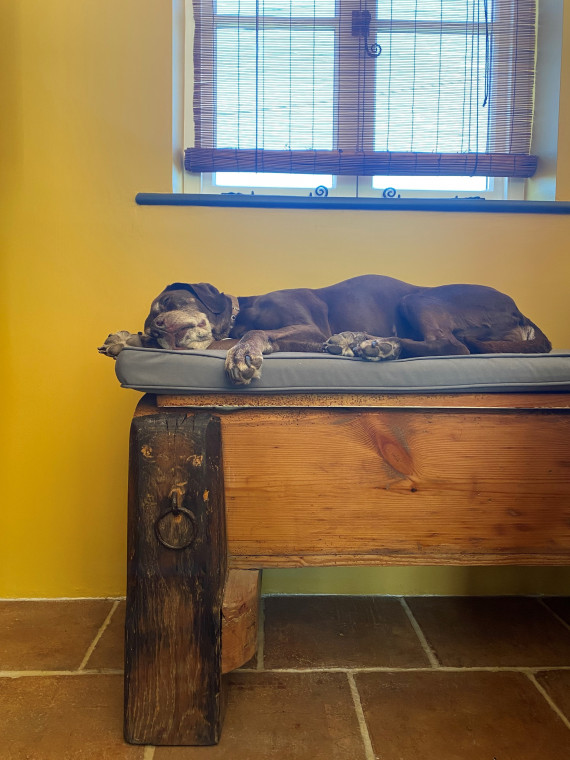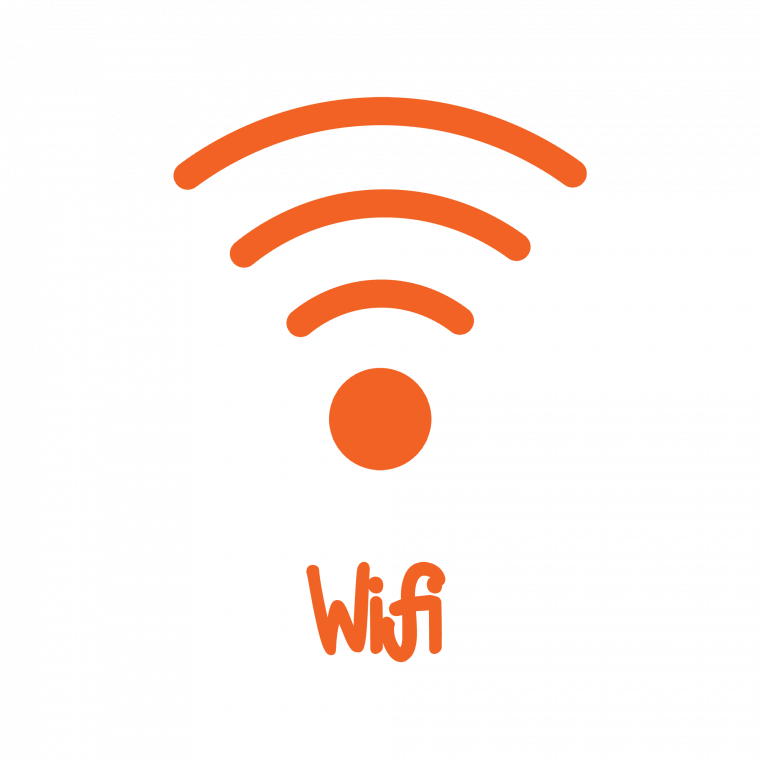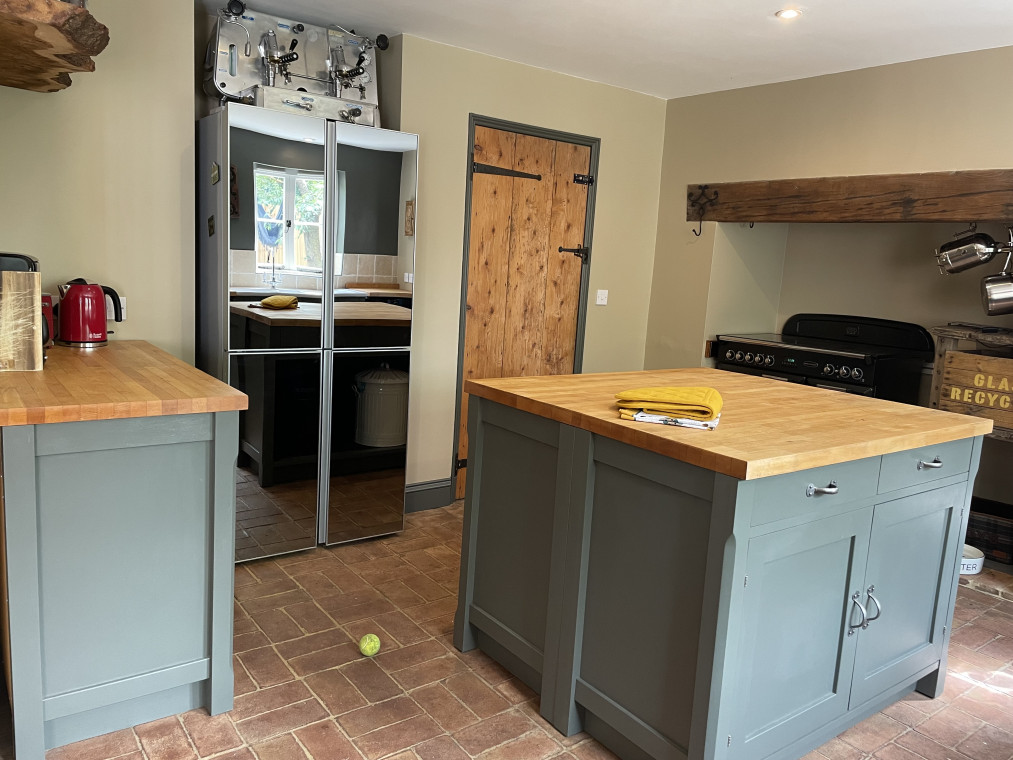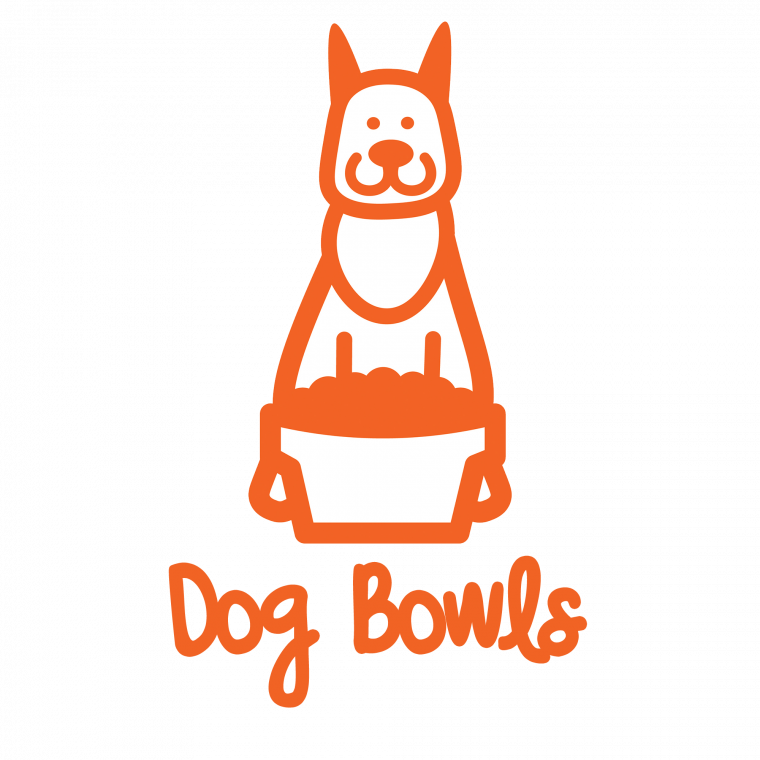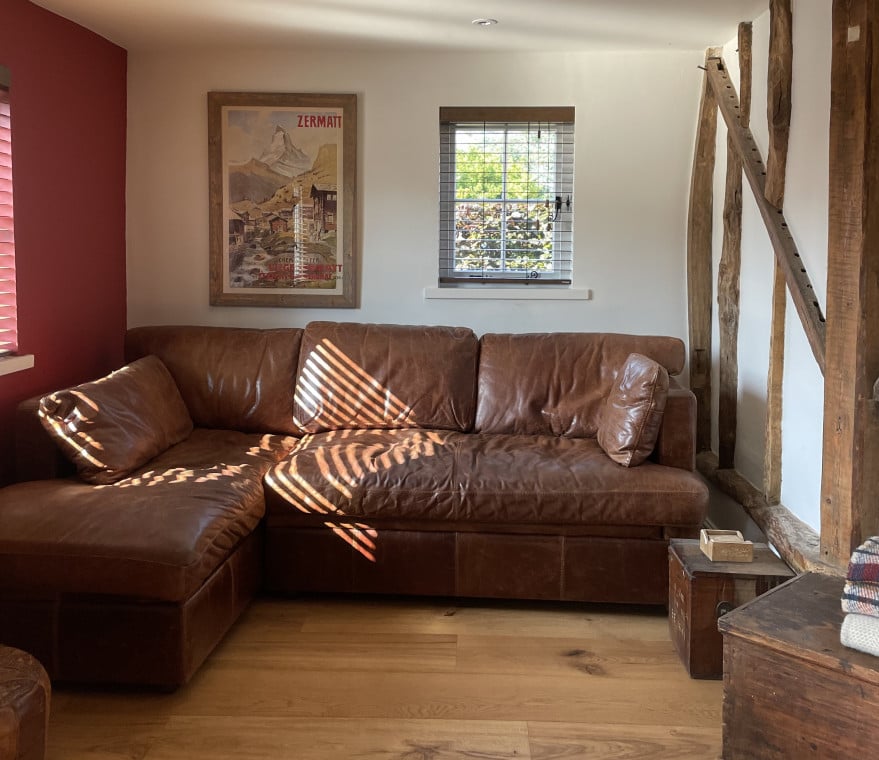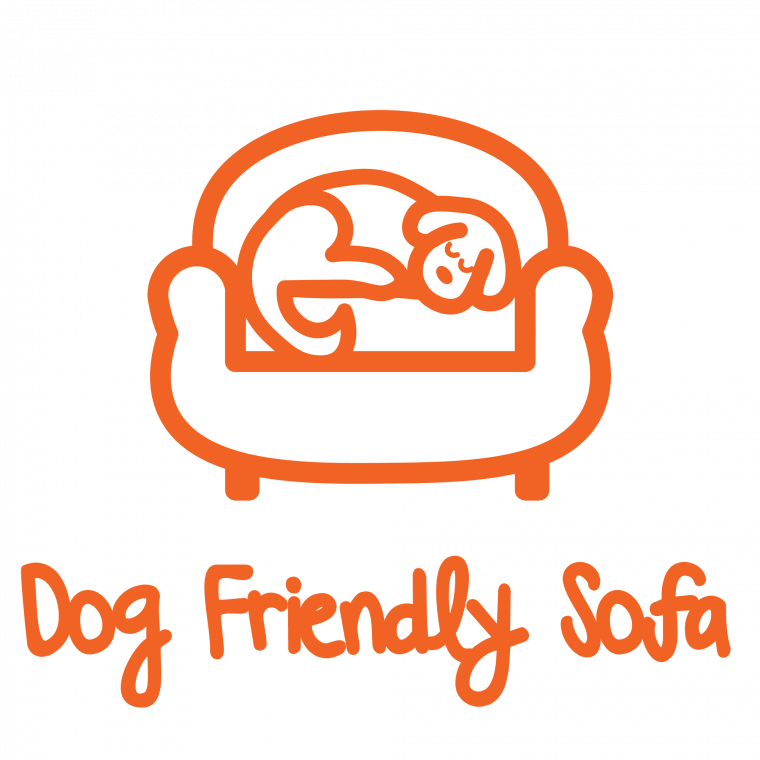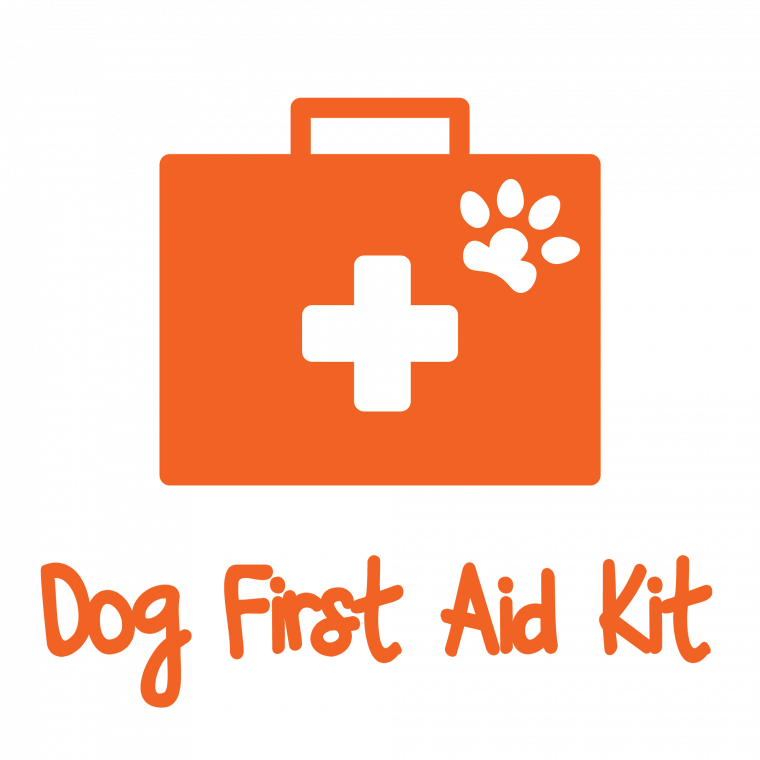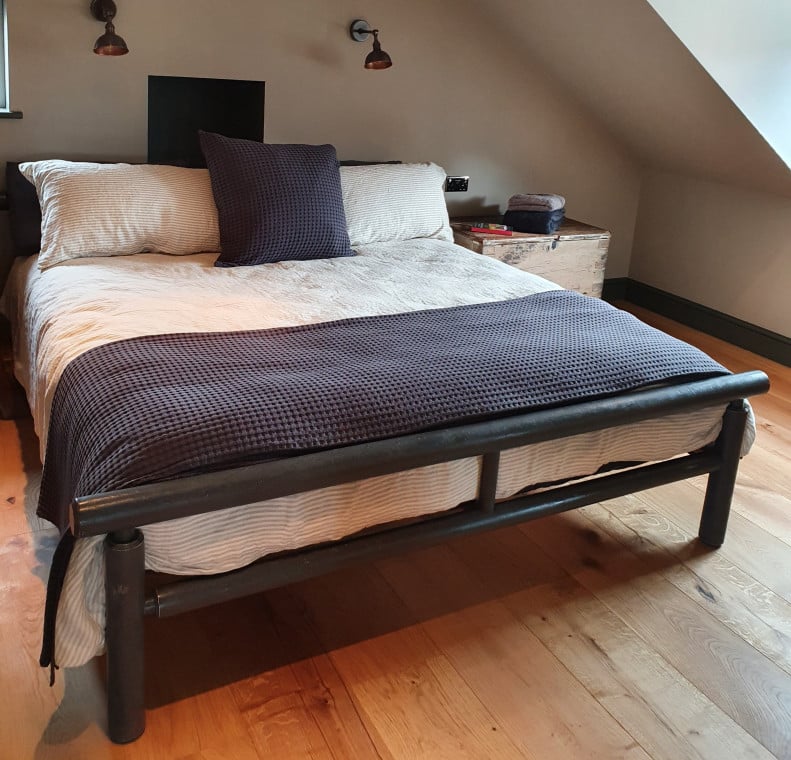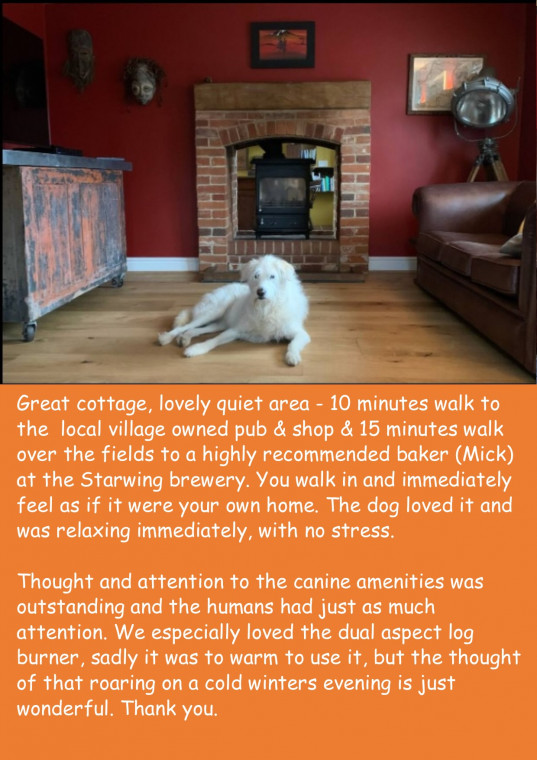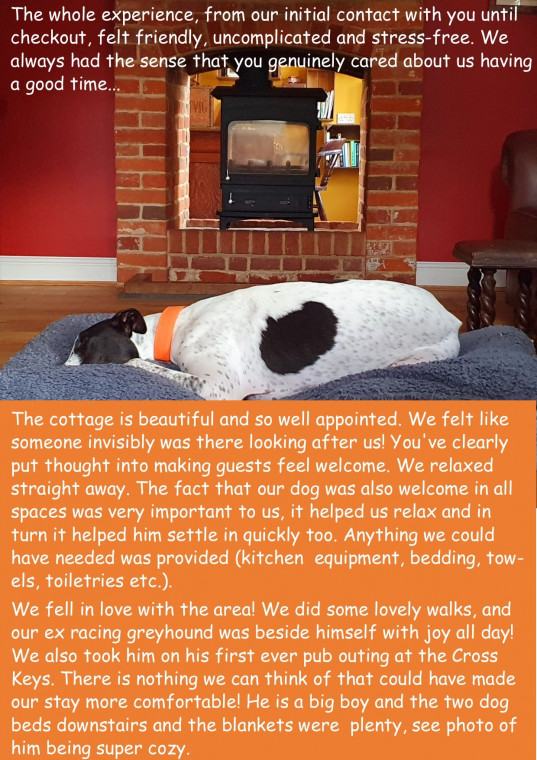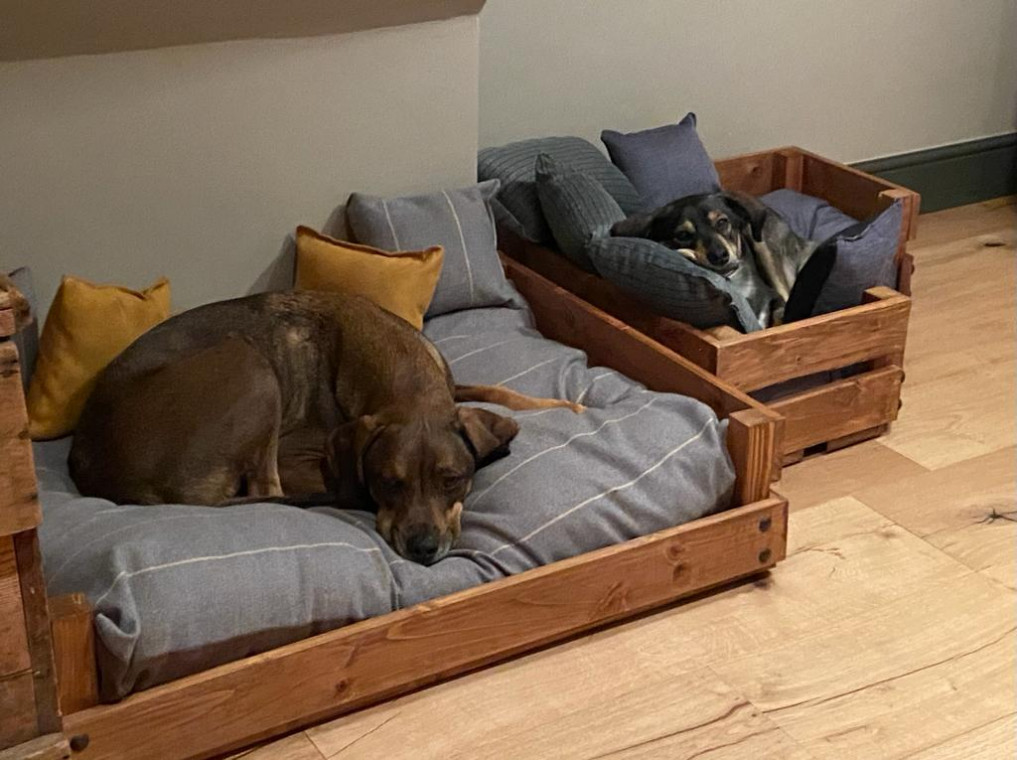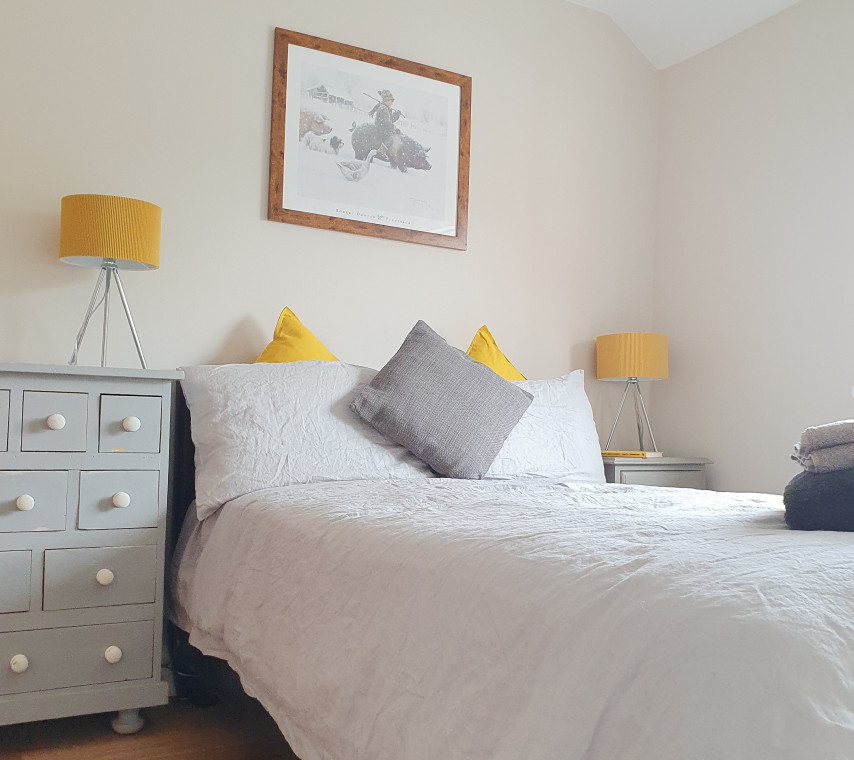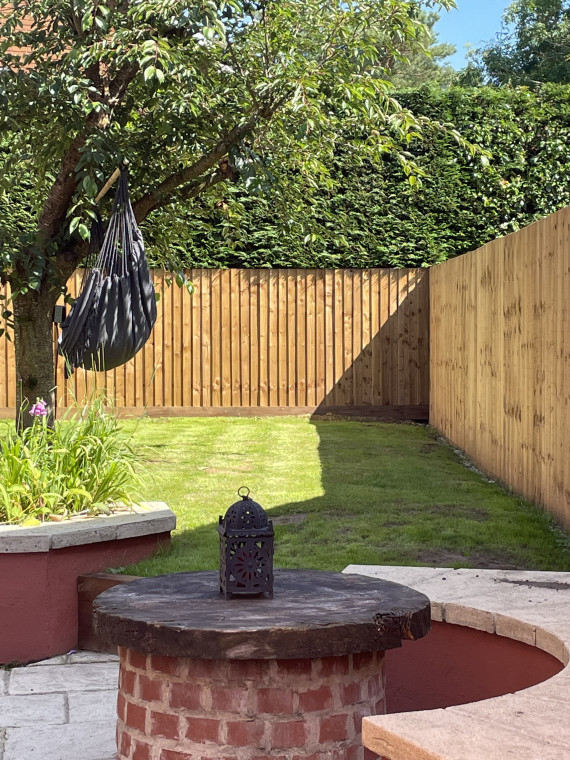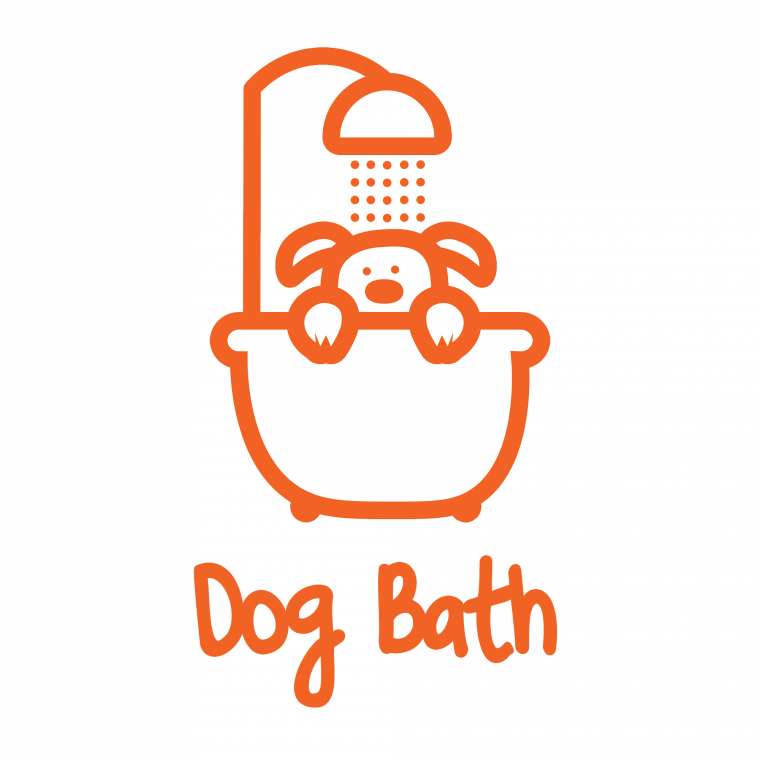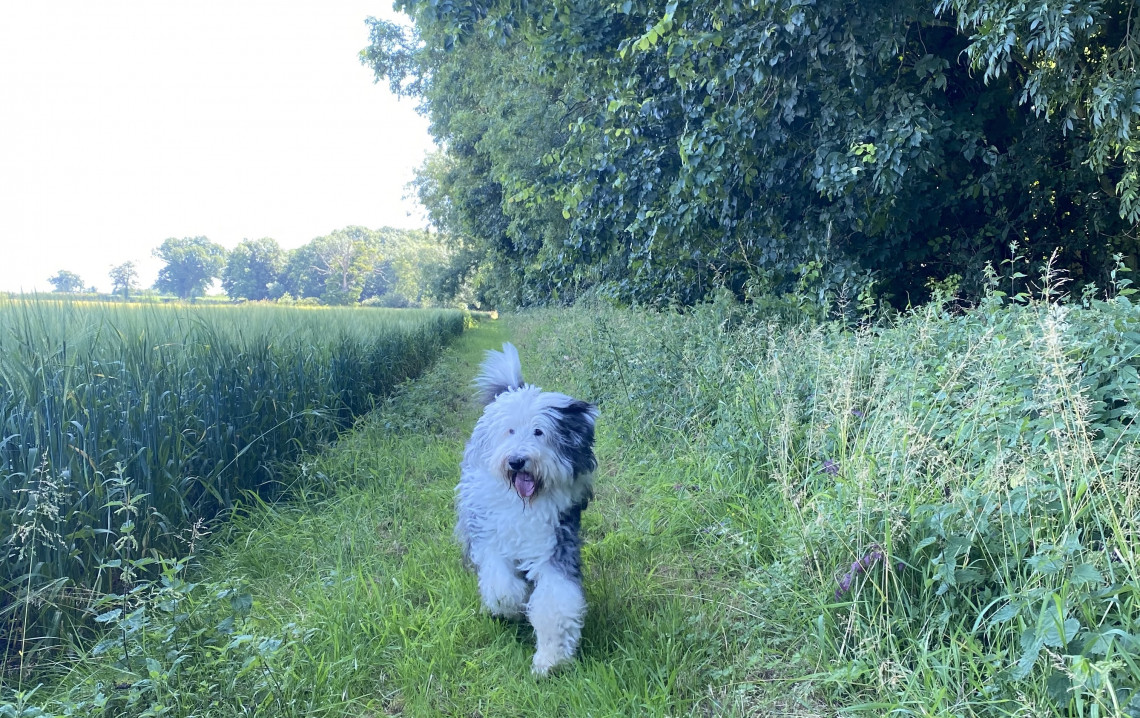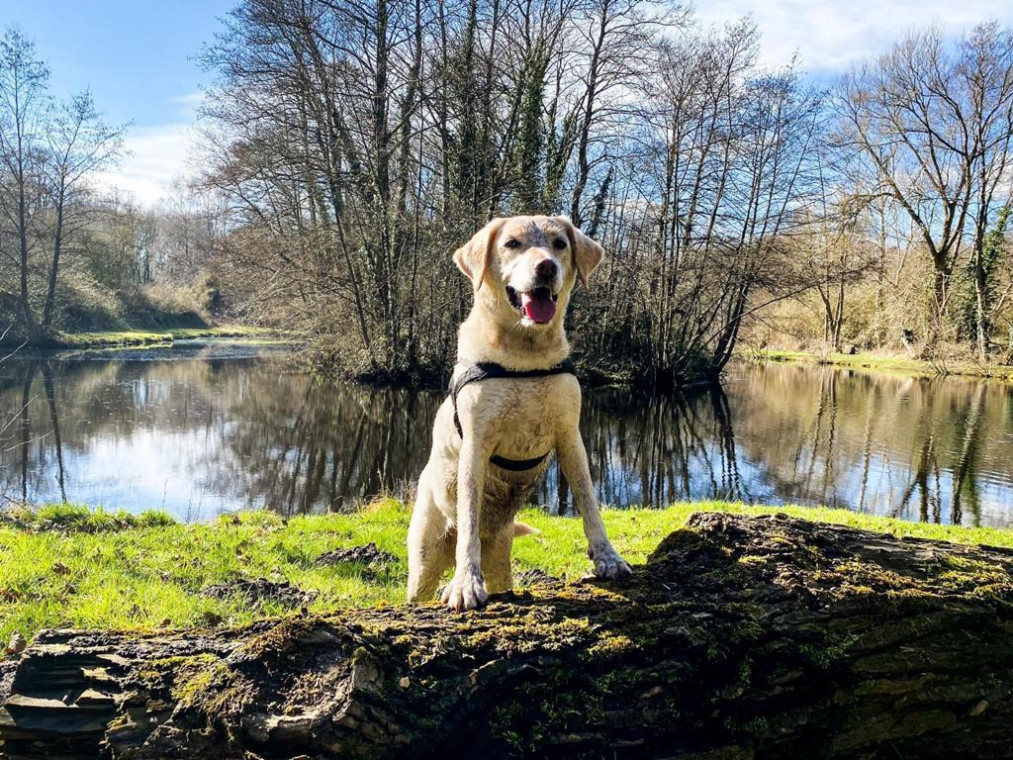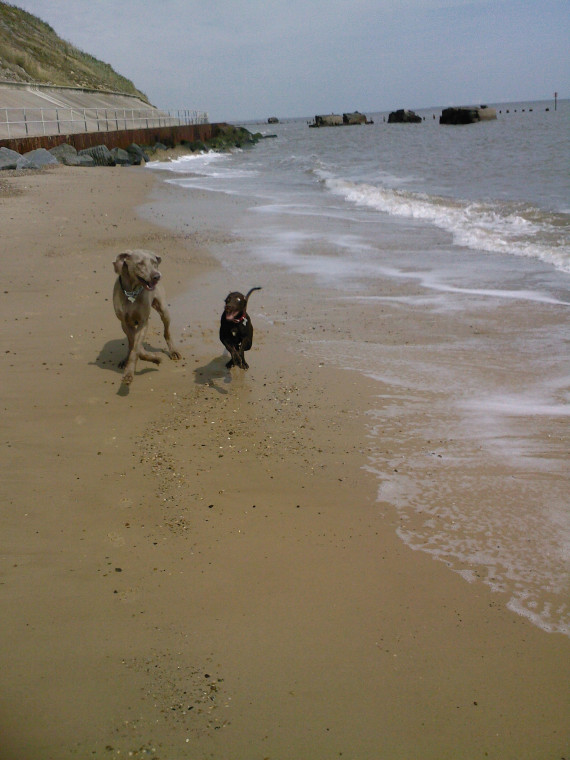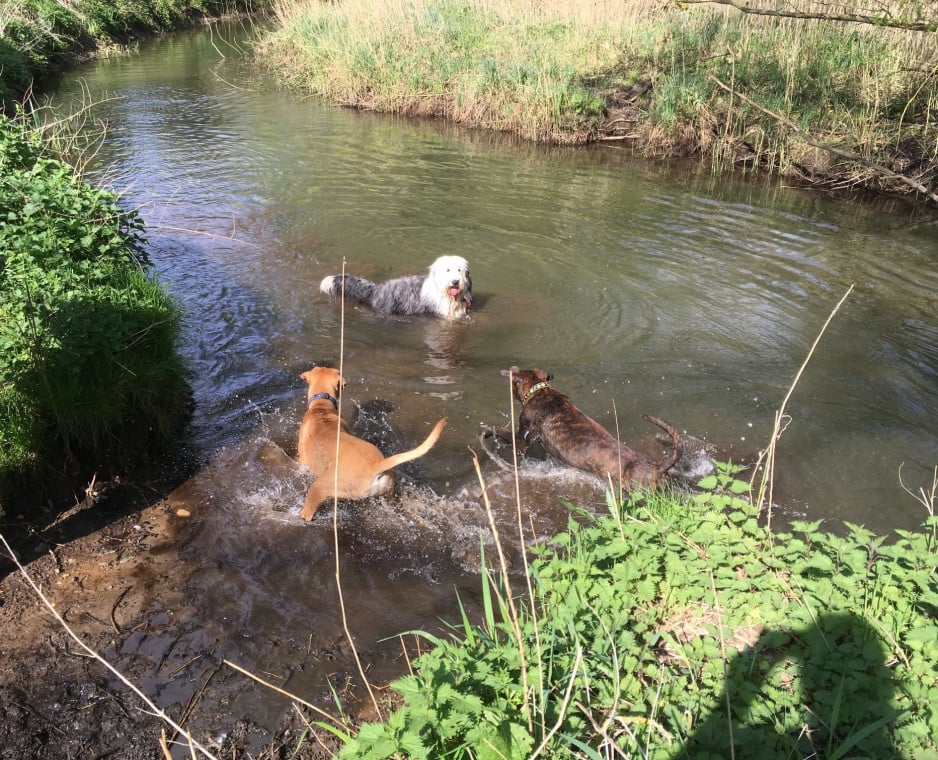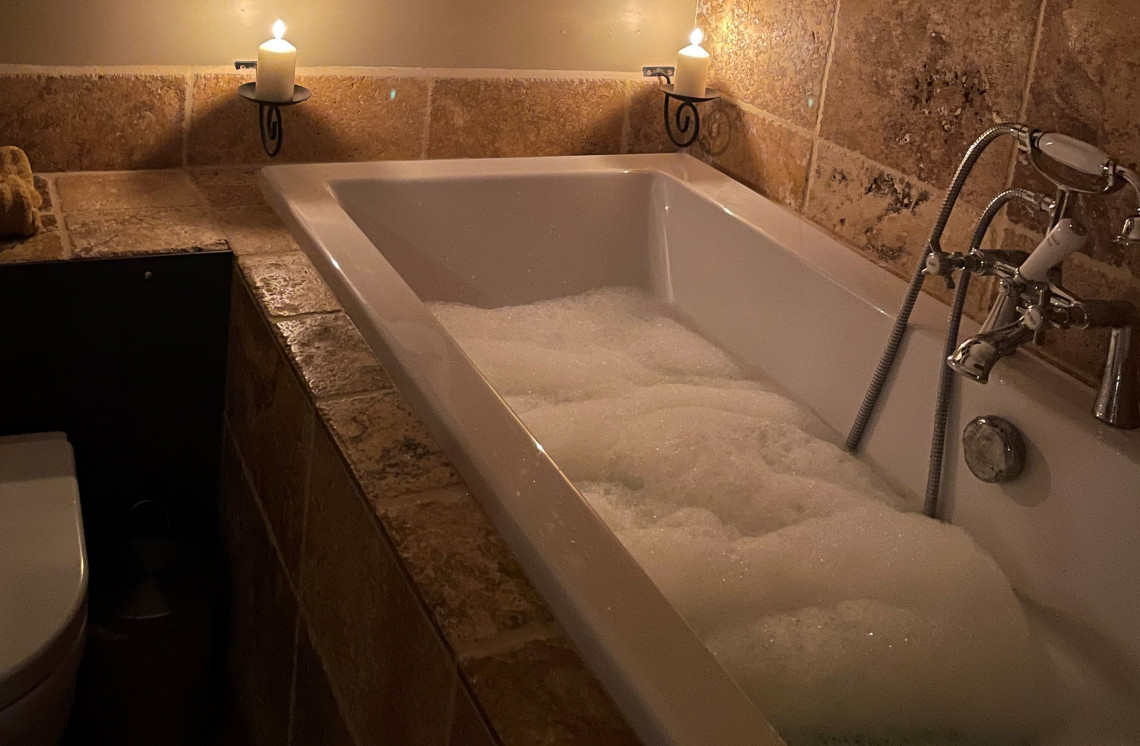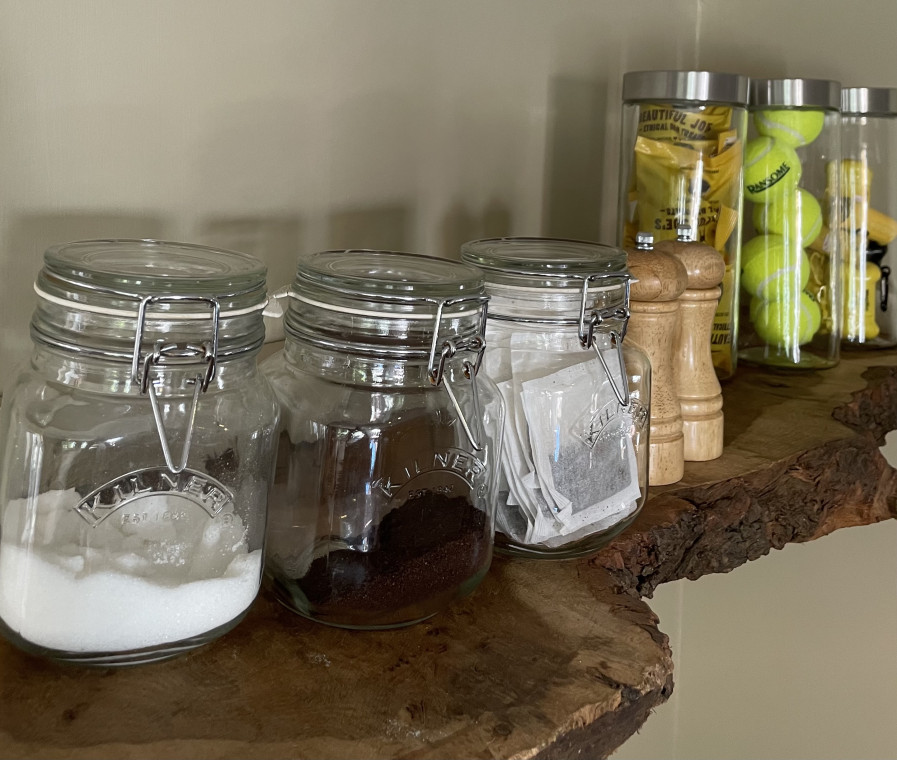 Hound and Human Holidays
(18 reviews)

Enclosed Garden

Multiple Dogs

No Charge

No Size Limits

Leave Unattended
Superb self catering detached holiday cottage in a Conservation Area on the edge of the Waveney Valley, Suffolk - for Hounds & up to six Humans aged 12+. Walks and adventures galore. Six nature reserves within a five-mile radius - see wild ponies, deer, birds and other wildlife.
Read More
Set in a beautiful rural area on the Norfolk/Suffolk border, this is the perfect location to enjoy the very best each county has to offer - perhaps one of the nature reserves on the doorstep, the Heritage Coast a little further away, or dog welcoming pubs within walking distance - before returning to rest, luxuriate and recuperate from your adventures.

Comfortably sleeping up to six humans and their canine companions, all guests will appreciate two gardens and generous internal spaces. Whether you plan to use the cottage as a base for wider exploration or to stay local, this cosy, homely and hardy cottage will serve you well.

Renovated with a love of the outdoors (and muddy paws) in mind, this old cottage has a shoe, coat and boot area by the front door. Oiled brick floors run throughout the open plan kitchen and dining hall, with quarry tiles in the library and wood flooring everywhere else.

Canine amenities and supplies are provided as standard and include treats, bowls, towels, holiday dog tags, poo bags and even tennis balls. Your whole pack can relax and enjoy your holiday. As detailed on the Explore page, there are many dog friendly places to visit including forests, open countryside walks and the Royal Park at Sandringham.

Two sets of double doors open onto the patio dining area at the back of the cottage. Within this private well fenced space is a small lawn, a deck with gas BBQ and seating area. Through a side gate is another enclosed lawned area surrounded by hedging with bench seating. Enough outdoor space to enjoy warm summer evenings and the vast dark starry skies. Beyond the full height garden gates are an infinite number of rural adventures that will delight your dogs. On your return, the enormous and remarkable dog bath with hot and cold mixer tap makes the canine cleaning experience altogether more enjoyable for both Hound and Human.

The lounge and library share a double sided wood burner so there is ample room beside or around the fire (be advised though that many a tired dog has quickly claimed and refused to relinquish the best spot). There are two sofas, leather beanbags, a desk, board games, puzzles, playing cards, a smart TV and books to read.

Upstairs are three double bedrooms. The master en-suite has a large double ended bath that is the perfect place to enjoy a hot soak by candlelight after a long day in the great outdoors before falling in to the luxurious super king bed.

Several dog beds are provided, but you may find that your hound quite enjoys laying on the brick and tile floors which are cool in summer and the underfloor heating makes them super cosy in winter. If your dog usually sleeps on the bed at home, then they are welcome to sleep on the bed here too. All soft furnishings are leather or fully washable fabric. You can wipe walls clean with a damp cloth if you have a mud splatter moment. Your dogs are as welcome as you are in all indoor living and bedroom spaces.

This is an old cottage and there are many steps (including all entrances to the property), raised door thresholds, restricted headroom and the ground/floors are uneven in places. The property is not suitable for children aged 11 or under. Older children or adults with mobility difficulties should read the descriptions carefully and consider that all bedrooms are upstairs. Exact location provided after booking.

Dogfriendly Magazine Review
Read our comprehensive review of this listing printed in our bi-monthly magazine.
Name: Hounds and Humans - Yew Tree Cottage
Reviewers: Jenni and Arran Eley
We had high hopes for our three-night stay at Yew Tree Cottage on the Suffolk/Norfolk borders. For one, we had the luxury of a spacious, detached cottage sleeping up to six for just the two of us, but also it was made clear that Woody's comfort was as high a priority as ours. We all know by now that a happy hound equals a happy human holiday.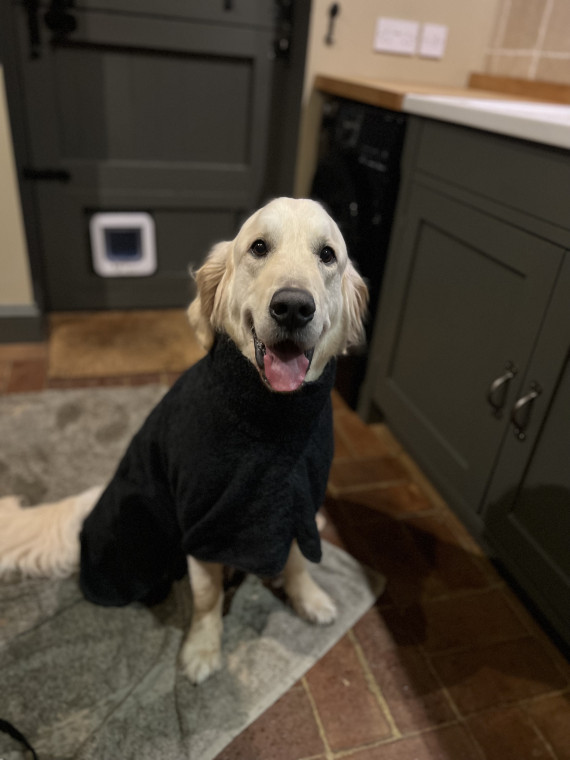 The pretty cottage is on a quiet lane in a conservation area in the village of Redgrave, with country walks from the doorstep. We had to first motivate ourselves to leave the cottage, because inside there are creature and human comforts galore. For Woody this meant multiple dog beds dotted around the house for a snooze wherever it took his fancy, a wooden chest full of freshly cleaned toys for his perusal, stacks of ethical dog treats, plus a brand-new tennis ball. There were dog tags, dog bowls, poo bags, drying robes and spare leads. These were of less interest to Woody than the seemingly never-ending supply of new toys from the wooden chest. As for us, exploring the cottage was also a delight. From the spacious master bedroom and bathroom with luxurious deep bath, to the unique furniture and artefacts and the library room with its range of books, with a dedicated dog section.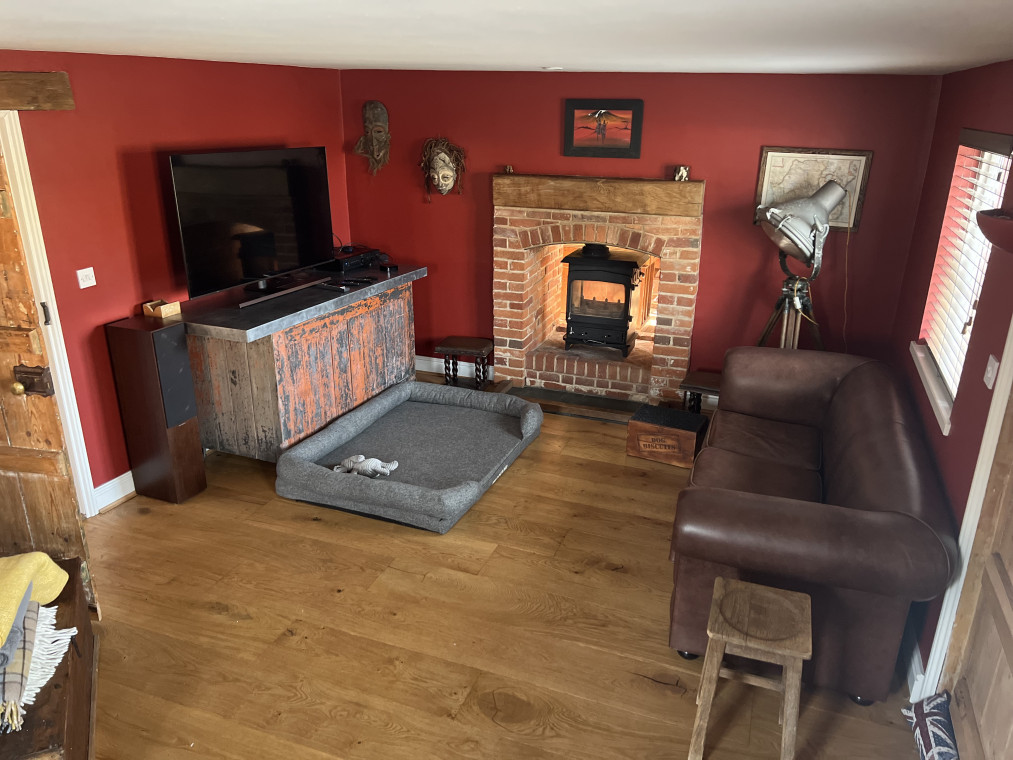 Victoria, the owner, left comprehensive welcome information for us including handy notes and tips from her four dogs, the previous canine residents. Woody was excited to learn that he was welcome in all living and sleeping places, and that blankets were provided so he could lie on the sofas or even the bed. We didn't spoil his fun yet by showing him the bespoke doggy bathtub in the back garden, although I had a hunch that he would encounter it before our stay was done.
We reluctantly left the warmth of the house for a sunset stroll out onto the fields at the end of the lane and were rewarded with deer-spotting opportunities in abundance. We put Woody on a lead just in case the urge for a Fenton deer chasing moment became too much, but thankfully he seemed content enough with all the new sights and sniffs. Back at the cottage we settled in for a cosy night by the log burner, with Woody enjoying the freedom to roam between relaxing on a huge dog bed in the lounge, to lying on the underfloor heated flagstone flooring in the dining room, with periodic checks on squeaky pink pig, one of his favourite toys.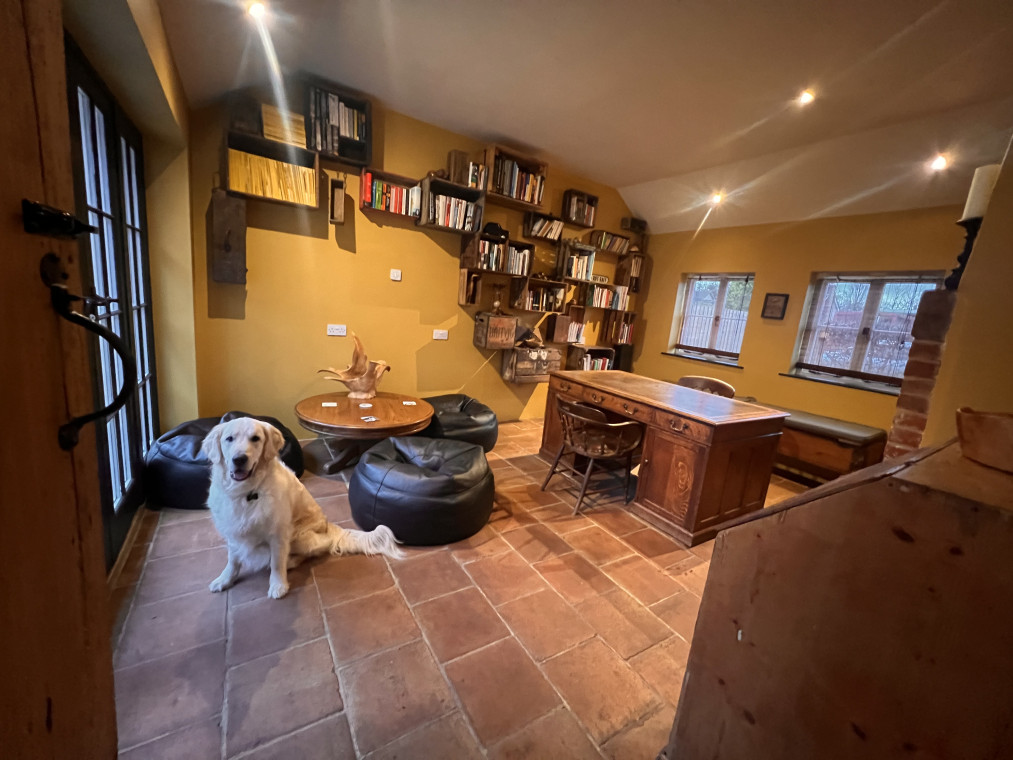 On Saturday, we visited the nearby Angel Café in Diss for brunch. This bustling and popular café is dog friendly indoors and out, and serves homemade, local food. Woody sampled the local sausages and agreed with the many Tripadvisor reviews that they were thoroughly delicious and that all the staff were very welcoming.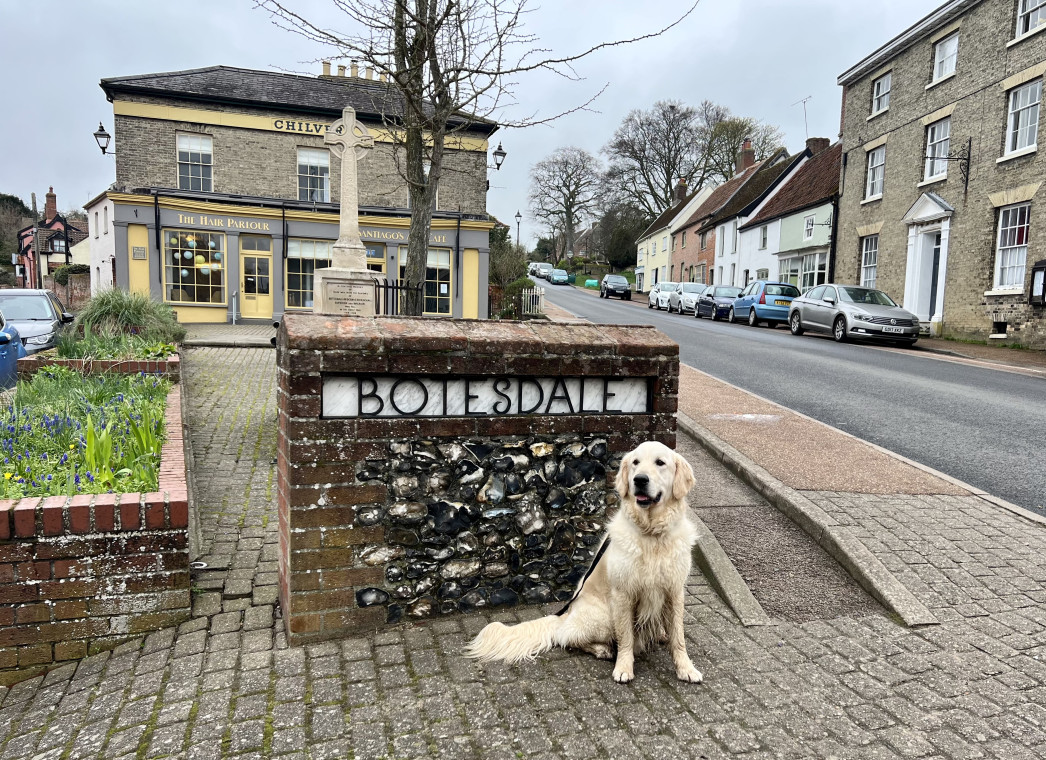 Fully fuelled, we set off on a four-mile walk. There are six circular walks of different lengths in the area to try, all prepared by the local pub, and laminated copies are available in the welcome pack. We chose the Botesdale Loop, which from Redgrave crosses the valley by streams and open fields and into the village of Botesdale. We didn't see a soul for most of the walk and enjoyed the views and peacefulness of the surroundings. Woody had the freedom to explore, paddling in a few streams, getting muddy and avoiding his favourite pastime of fox poo rolling for at least the first half of the walk.
As predicted, this gave us an opportunity to try out the doggy bathtub in the garden on our return. There's a handy mixer tap so although Woody wasn't exactly pleased, it was warm water and the shampoo provided was strong enough to combat even fox stink. The back garden is fully enclosed with high fences, and during our visit the blossom tree was glorious in full bloom. The bees were taking advantage of the insect houses dotted about and there is also a hedgehog house in the front garden. It seems that Yew Tree Cottage has an open-door policy to creatures great and small.
There's a solid sustainable and ethical ethos that can be seen everywhere from the 'dog toilet' septic tank in the garden, reducing the need for waste bags, to the natural human toiletries and ethically sourced tea and coffee. Post bath time Woody's displeasure at being clean was somewhat soothed by his enjoyment of trying a drying cape for the first time.
After a snooze by the fire, we returned to Botesdale to pick up some takeaway wood-fired pizza from The Greyhound Pub. This quirky village pub is a hub of the local community and very welcoming of dogs in the bar. We loved watching our pizza being made in the oven almost as much as we enjoyed eating it.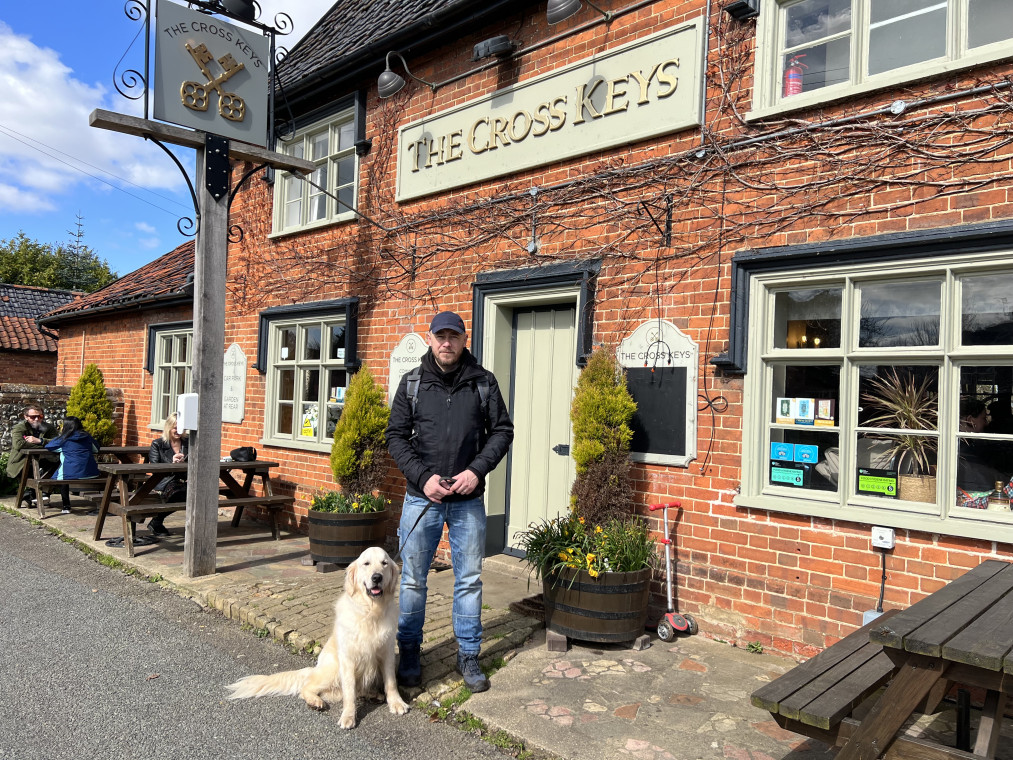 On Sunday, we forced ourselves to get up a bit earlier (the bed is very comfy) to try out a longer walk route of six miles with lunch at the village pub, The Cross Keys afterwards. The sun had made a welcome appearance and as we walked into the village it seemed like the perfect set for a quintessentially British TV drama. Characterful thatched cottages with daffodil displays around the village green, a duck pond, community run shop, the pub, and even a traditional red phone box converted to book exchange.
This varied walk saw us cross over into Norfolk, then took us on a circular route through Suffolk Wildlife Trust's Redgrave and Lopham Fen reserve, across the river Waveney and back into Redgrave. Once again there were plenty of opportunities for Woody to explore off lead, with occasional deer sightings and wildlife in the fen – geese, swans, and marsh harriers. Redgrave and Lopham Fen is well worth a visit. Dogs are welcome but must be on leads in the reserve to protect the habitats. It is free entry with nine miles of trails to enjoy.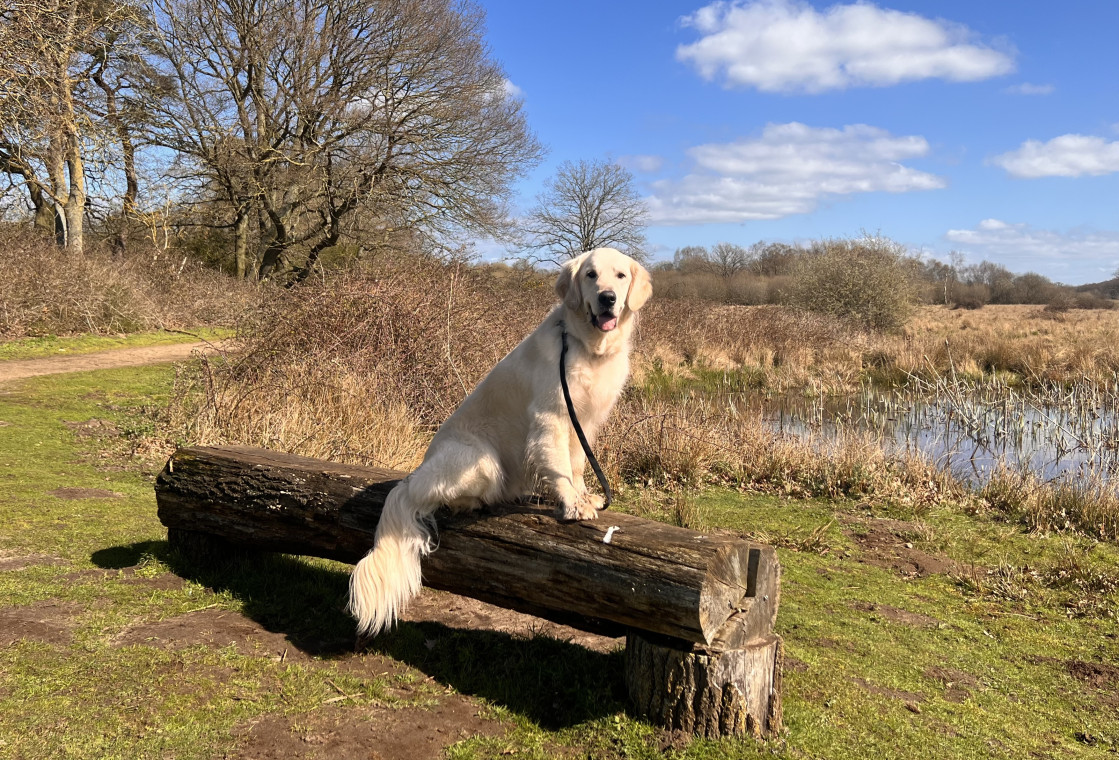 The Fen is one of the most important wetlands in Europe and supports a diverse range of plants and animals, including one of the rarest spiders in Britain, the Fen raft spider. The protection of this vulnerable species was the reason this site originally became a nature reserve. It was while showing my husband a picture of said spider, explaining that it can literally walk on water and is the biggest in the UK – about the size of an adult palm – that I realised he had hurriedly marched ahead muttering about getting to the pub in time for lunch. Unfortunately, or fortunately, we did not see the Fen raft spider on this visit.
Back at Redgrave we enjoyed lunch and a well-earned drink in the Cross Keys, thanking the owners for their brilliant walk routes. We asked if Woody was allowed in and were rewarded with an enthusiastic 'yes of course' before spotting the Dog Friendly sticker intheir window. We sat outside and enjoyed lunch by the village green, while Woody enjoyed a lot of fuss from anyone who happened to pass by.
Our stay was nearly over, and we hadn't ventured very far from the cottage at all. We hadn't needed to. For those who want to, there is lots more to explore: the Norfolk Broads, English Heritage sites, or even the coast a bit further afield.
Despite our tired legs we had to fit in a visit to Knettishall Heath Nature Reserve, the top recommendation in our welcome pack. Managed by Suffolk Wildlife Trust, it is a huge reserve with open heath, forest, river walks and wild ponies.
A fifteen-minute drive from the cottage and Woody was in a very happy dog place in the dedicated dogs off-lead and pony free pine trail. There is free parking close to the off-lead trail, away from the main nature reserve car park. Woody by name and by nature, woodlands are most definitely his thing. Ours too, Knettishall Heath is a fantastic place to explore for hounds and humans alike.
For us the rural village location, the many walks and local pubs made this a perfect relaxing staycation. Lets be clear, though, the star attraction here is the cottage itself. It has a warmth and generosity to it that is not just from the log burner, the richly painted walls, or the cosy underfloor heating. Perhaps it's the contented energy of the many happy dogs and humans that have lived and stayed here before. We loved it and agreed with a previous guest's feedback that they can't imagine another dog friendly cottage trumping this one.High praise from us and, of course, from Woody, currently lazing in front of the log burner with pink squeaky pig from the chest of delights. One very happy hound.
Hounds and Humans – Yew Tree Cottage, review by Jenni and Arran Eley and appears in DogFriendly magazine issue 78. For more information on the DogFriendly magazine visit https://www.dogfriendly.co.uk/magazine
---
(18 reviews)
Ann Minett, October 2023
Genuinely dog friendly cottage, with all you could want - walks from the door , enclosed garden , dogs beds and throws , hard floors so no muddy carpet worries. No extra charge for dogs ,.lovely cottage for humans too. Clearly a lot of thought has gone into it all. Great location in a pretty village with a dog friendly pub.
Coco, October 2023
What I Did This Summer – Yew Tree Cottage, Redgrave
By Coco Cutter
Having accepted Hugo's invitation to celebrate Perdys 10 th Birthday, I was a but apprehensive,
Hugo's family are…. You know, the active sort, walking, agility, TRICKS! There are 4 of them, Hugo,
Perdy, Jive and Wilbur, they're all big dogs, well bigger than me, they are Collie's or Collie Cross,
apart from Hugo who is a Bedlington Whippet. Then there is me and my sister, I am a Lhasa x
Poodle and Miss Moo is a Chihuahua x Dachshund, she is the most annoying dog, EVER! Has to be
center of attention all the time.
I mean when it comes to behaving, I can sit, I know my name, I even learned 'Paw' to keep my owner
happy, she gets a real thrill when I do that. I'm only in it for the food though. I'm a much more
chilled out kinda dog. I like having my creature comforts nearby, a big bed for lazy afternoon
snoozes. My dream day would be a constant supply of food and a topped-up water bowl, that's
what makes me happy, the simple things.
Anyway, I digress. Hugo had organised a weeks holiday for Perdy's BIG 1 0. I had to bring my sister
and my owner, my owner is OK, and at least with 4 other dogs around my sister would have
someone else to distract her. Honestly, it's like having to live with a hyperactive puppy! You would
have thought at 3 she would be growing up!
I was really impressed with his choice of accommodation, he obviously did a lot of research,
everything a dog would want. I do mean EVERYTHNG! It's the first place I have stayed which is
properly dog friendly. Most places, I find, are dog tolerant, its not the same. Every room had a
choice of places to sleep. There were beds for the decerning dog in every room, and different kinds
too, our bedroom had a lovely wooden bed, with a large squishy cushion on the bottom and lots of
little pillows for snuggling. It looked really inviting; however I believe my owner gets anxious when
she sleeps alone so I kept her company. It's important to make sure your owners feel safe and
looked after.
She seemed very happy with her environment too, very excited with the kitchen and all the gadgets.
I don't understand the fascination with coffee, but there was a machine that made it. A large oven,
washing machine and dishwasher. I don't know why she felt the need to use that, I would have
licked the plates clean. I was happy to see a good supply of environmentally friendly poo bags, balls
and healthy treats, it really was well provisioned for pooches and humans.
My owner and her friend spent their evenings at the dinner table, laughing and sharing a meal with a
bottle of wine. They seemed happy enough, it gave me time to relax and doze on the sofa after our
day out. After dinner they watched the huge tv box, Hugo and Miss Moo would cuddle up to them, I
would keep an eye on everything was ok from my chosen spot. There was a box with loads of cuddly
blankets, we put some on the sofa, they were leather and it can feel a bit cold on your tum when
you first laydown, much nicer to have something to snuggle against. I noticed there was also a step,
for little dogs, in case they needed a leg up, I didn't need it, but it was a thoughtful addition.
I decided I enjoyed Suffolk, Jive had organsied lots of days out, we ran over fields in Constable
Country, explored Sutton Hoo and visited Framlingham. We didn't go into the castle, but we walked
around the outside and though the countryside. Laverton was beautiful, lots of old houses in the
town and plenty to explore on the circular walk. The best bits were when we had a rest, my owner
and her friend found plenty of places for sausage rolls, a glass of cider and farm shops to try local
cheeses and wines. Anyone would have thought it was their holiday!
When we got back after our adventures, quite often one or other of us would have a burr or two
stuck in our fur. There was a good selection of brushes and other implements to help keep us
looking at our best. After one particular walk, Perdys owner decided she needed a bath, they made
use of the outside dog bath, with hot and cold running water, rather her than me!
Ther was hot and cold water for the humans too. My owner particularly enjoyed using the Faith in
Nature products provided by the cottage, and the big fluffy towels to dry herself before heading out
for the day.
The garden had lots of enclosed space for sniffing, there was an outside dining table, and a little
curved bench with a round table, was nice to see our owners having a coffee outside and a good
place to be given a treat.
There was even somewhere for our poo to go, and outside doggie poo disposal unit, if I had
opposable thumbs, I would have given it a go. Instead, I watched my owner use it, she did a good
job!
This was the best holiday I have ever had, I feel rested and recharged and ready to get back to
routine. Even my sister didn't annoy me, she was happy playing with her boyfriend, Wilbur. I will
defiantly go back, Yew Tree Cottage is the pawfect base to explore the local countryside.
Missy, October 2023
Oh My Goodness! You will never believe what a week I have just had! You see it was Perdys 10 th
Birthday, she is one of my big dog friends. I have 4, Hugo, Perdy, Jive and Wilbur. I love Wilbur, he is
the best dog ever, he is my big floofy love fluff, and I have just spent the whole week with him…….
Hugo asked me and my big sis (Coco) to go away with them for Perd's Birthday, I was so excited, I
love walks, I love Wilbur, I love new places, it was just so exciting.
The cottage which could sleep 6 humans was spacious and airy, it seemed huge, to be fair,
everything is huge to me, I am only tiny. I may be small in stature, but I am big on personality, and I
refuse to be outdone, if there is an adventure to be had, I want in on it.
There was very little cottage did not have, it was perfect, in all honesty my human human maid
could have just brought food and treats, there were loads of dog bowls for food and water. Coco
told me there was a shelf with treats and balls. There were even poo bags, not that I would use
them myself. I have people to clean up after me! Boxes of blankets and dog toys, towels, grooming
equipment and even leads. It was a positive poochy paradise.
We settled in and went for a walk. It was helpful for my human maid that there were leaflets with
the choice of 4 circular walks all setting off from the local pub, we only went on a short one for the
first night, but we did sit outside on the green and have treats while the human maids had a glass of
wine, its important to keep the hired help happy.
I have spent the week romping through the Suffolk countryside, alongside my man, we have chased
along footpaths and woods. The human maids got very excited by the scenery and history of the
places we visited. Someone called Constable did some paintings years ago, my human maid was
thrilled to stand where the Haywain was painted, to be honest, I was more interested in the sniffs.
Every time they stopped to take in the view was an opportunity for me to explore with my nose. I
loved running down the hills as fast as I could and chasing back up, just to do it all again.
The evenings, after dinner, I would play with Wilbur. He is happy to lay on the floor while I jump all
over him, he is so gentle, he knows I am much smaller. My sister is sooooo boring and never wants
to play, it was super exciting to have a proper playmate for a week, there was a huge bed, big
enough for a wolfhound in front of the fireplace. It was my favorite place to play with my man.
The cottage was just perfect for me and my friends, it was good to see that the quarters for the staff
were adequate too. The kitchen was well equipped for the human maids, it had everything they
could possibly want to make my life easier. I tried out their beds and found they we extremely
conformable. There is nothing worse than tired help, good nights sleep for them means a better day
for me.
We visited Framlingham, Lavenham, Southwold and Sutton Hoo, every day was full of new places to
sniff. The human maids were very good at finding somewhere to sit down and have a coffee, I
believe they became experts in sausage rolls. One day after a shorter walk in Southwold, they
discovered Flints Vinyard, and bought a bottle of wine. They then found the Milk Shed Farm shop,
and bought some local cheese, pate and bread. I believe they ate well that night.
I have had the most fantastic week. The place we stayed ensured my needs were as high of a
priority as my human maids. We had the most fabulous adventures, and when we came home of an
evening, there were loads of places a pup could rest or play without getting into trouble. The
humans were happy and relaxed and had everything they needed, from lovely shower gels and
shampoos and big fluffy towels, even a hair dryer. I wish every week could be like this week.
Read All Reviews Write A Review
---
Listing Updated: 17/11/2023
Changes to businesses do occur. Please do double check this business is still dog friendly before you make a booking
---
---
This listing has a 10% discount for Club & VIP members! Find Out More
Listing Address
Village of
Redgrave
Diss
Suffolk
IP22 1RW
Website
Listing Details
Can Leave Dog Unattended
Yes
---
Exercise Area
No
---
Wheel Chair Access
No
---
Owner Has A Dog
Yes
---
Limit On Dog Size
No Limit
---
No. Of Dogs Welcome
Any
---
Charge For Dogs
No
---
Miscellaneous Notes
Suitable only for persons aged 12 or over EV charger free for overnight use Parking for two cars
---
Enclosed Garden Confirmed
Yes
---
Bedrooms
3
---
Bathrooms
2
---
Sleeps
6
---
Dog Welcome Pack
Yes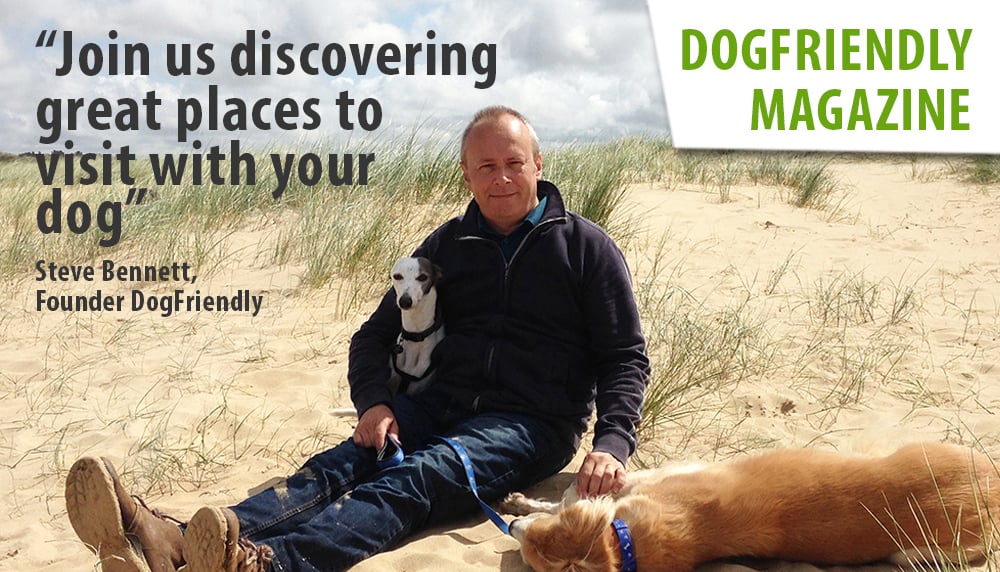 Searching For Dog Friendly Places?
The DogFriendly Magazine contains in depth reviews and features of the best places to visit, stay and play.
Find Out More
About Us
We have the largest database of dog friendly places to visit, eat and services.
We have a team of DogFriendly scouts who research every venue, either by completing a telephone questionnaire or by visiting and testing it in person.
Where We Are
Unit 4 Bramley Road
St Ives
Cambridgeshire
PE27 3WS