Become a DogFriendly Member & receive:
Bi-monthly e-magazine
County guides & Dog walking guides
10% Discount on 100s of dog friendly properties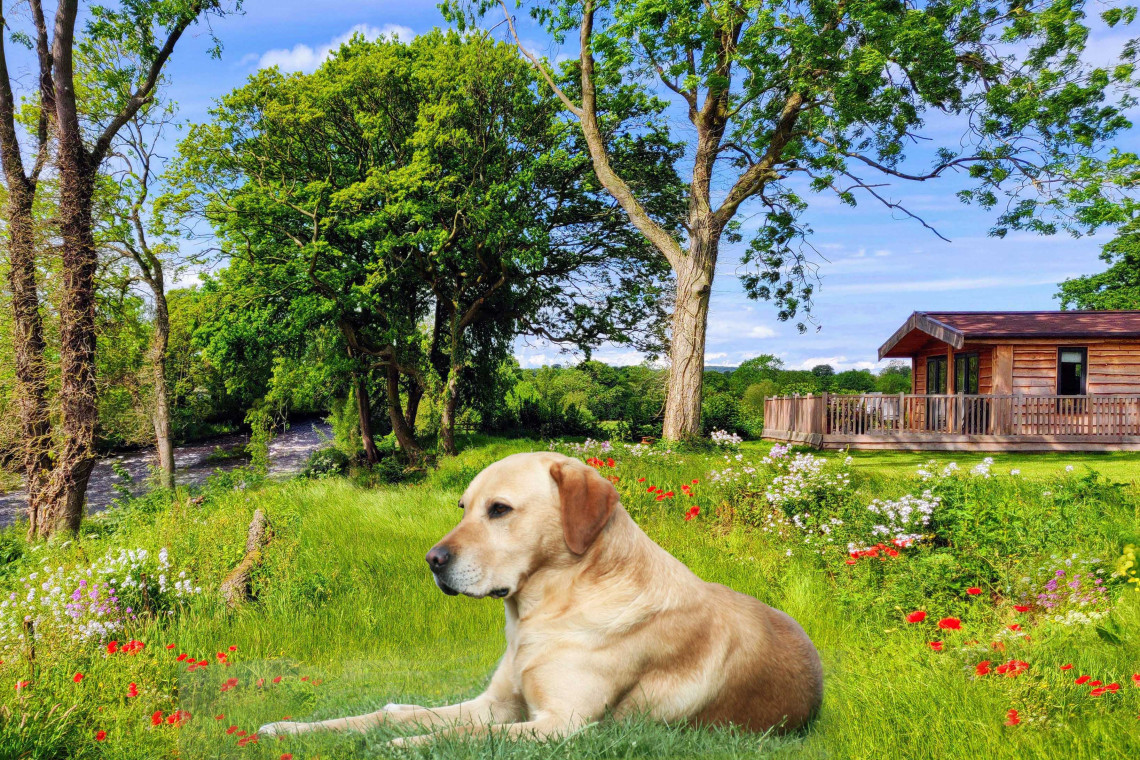 Have a look at www.riverdaleruralholidays.com for hundreds of pictures of dogs on holiday at Riverdale!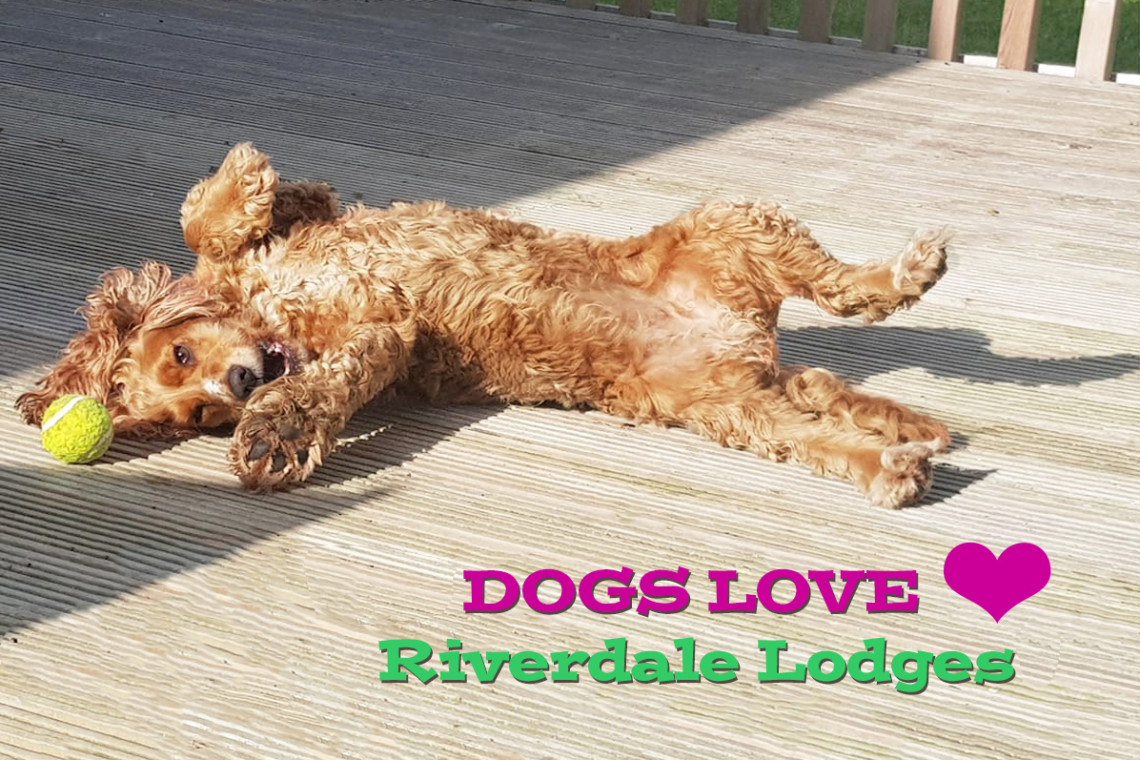 Dogs are all over our website www.riverdaleruralholidays.com, simply because we LOVE dogs! And dogs LOVE Riverdale!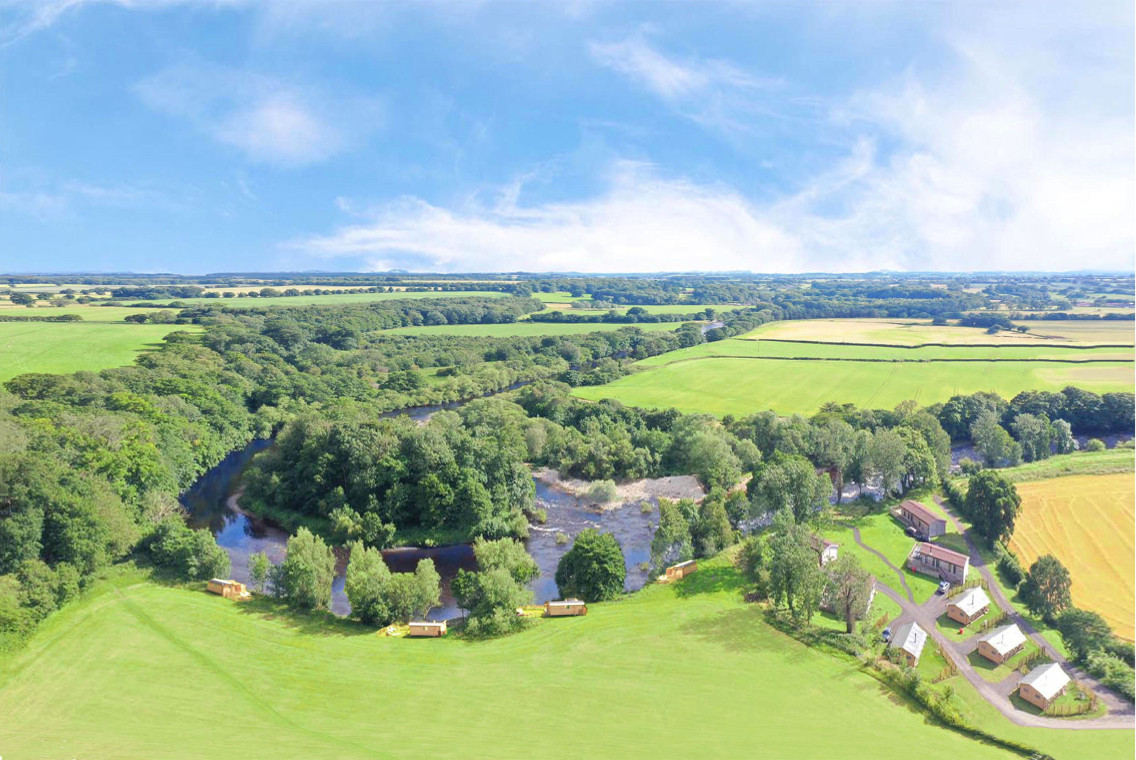 You will find Riverdale (HG4 5JG) at the most beautiful spot of Yorkshire. Right at the riverbank, peaceful and quiet, in the middle of unspoilt nature and endless walks.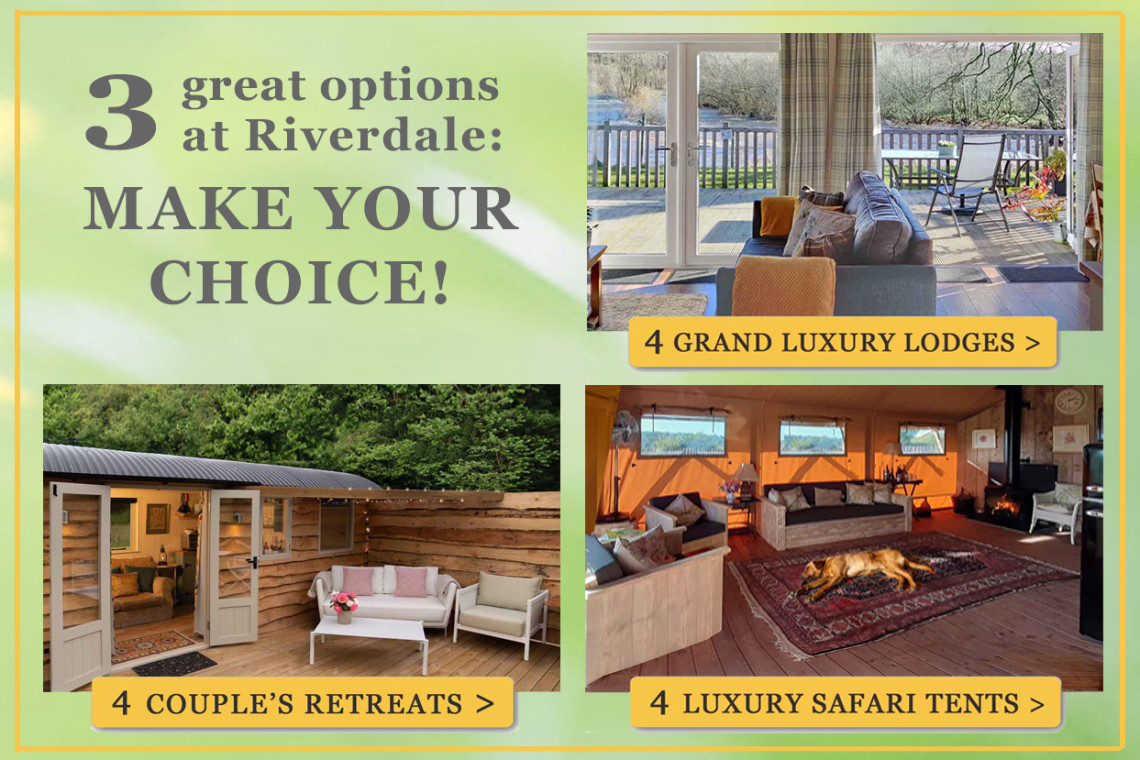 A Grand Luxury Lodge? Our Safari Tents where you are pampered in 5* luxury just as well? Or the ultimate getaway for Just Two?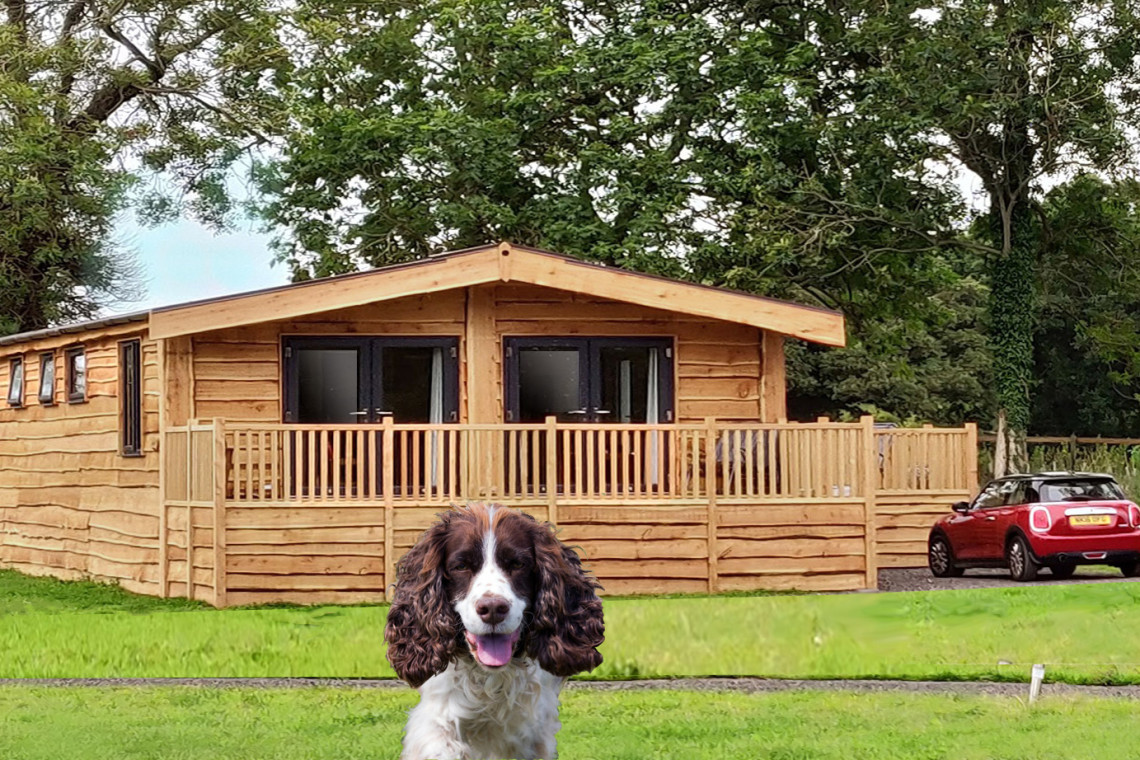 First of all, our Grand Luxury Lodges, 4 in total! Dogs instantly feel at home in our beautiful Lodges, such as Lapwing Lodge in this picture,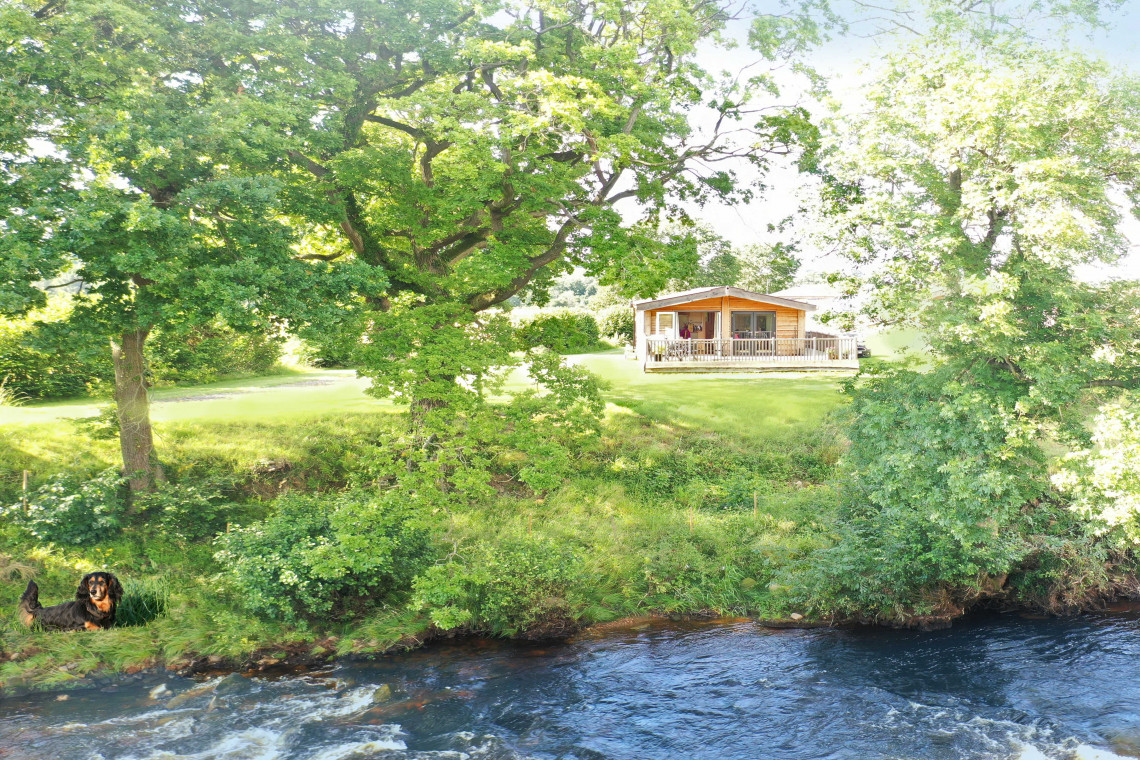 Or Kingfisher Lodge (in this picture), Curlew Lodge, and Oystercatcher Lodge, overlooking the river!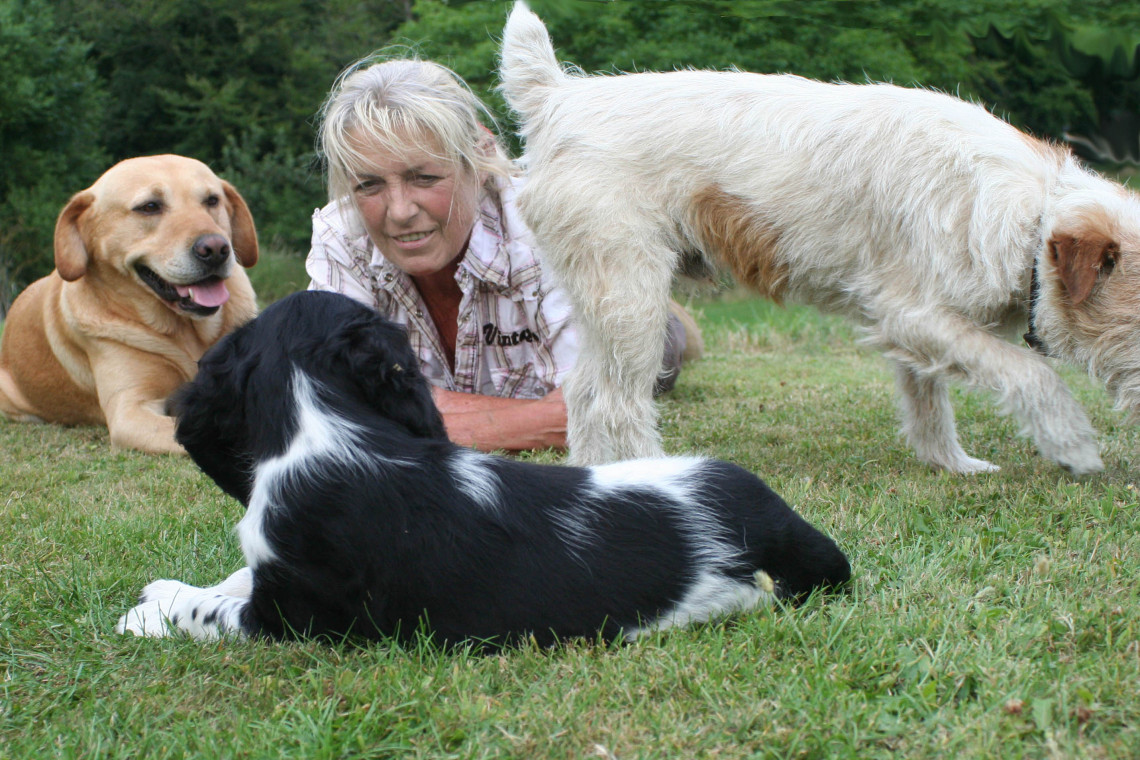 No traffic anywhere near the park, no need to "keep dogs on the lead" or any worries! They can play and run!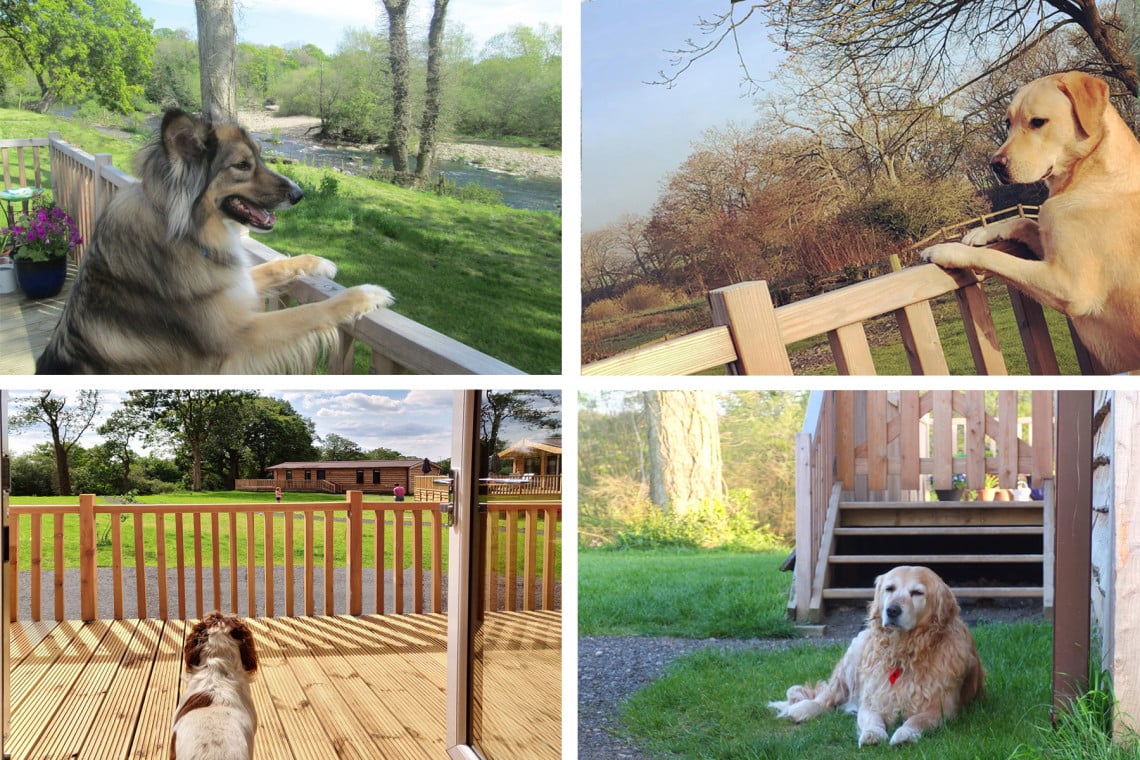 Dogs love to patrol the decking of the lodges (safely gated) and keep the look-out!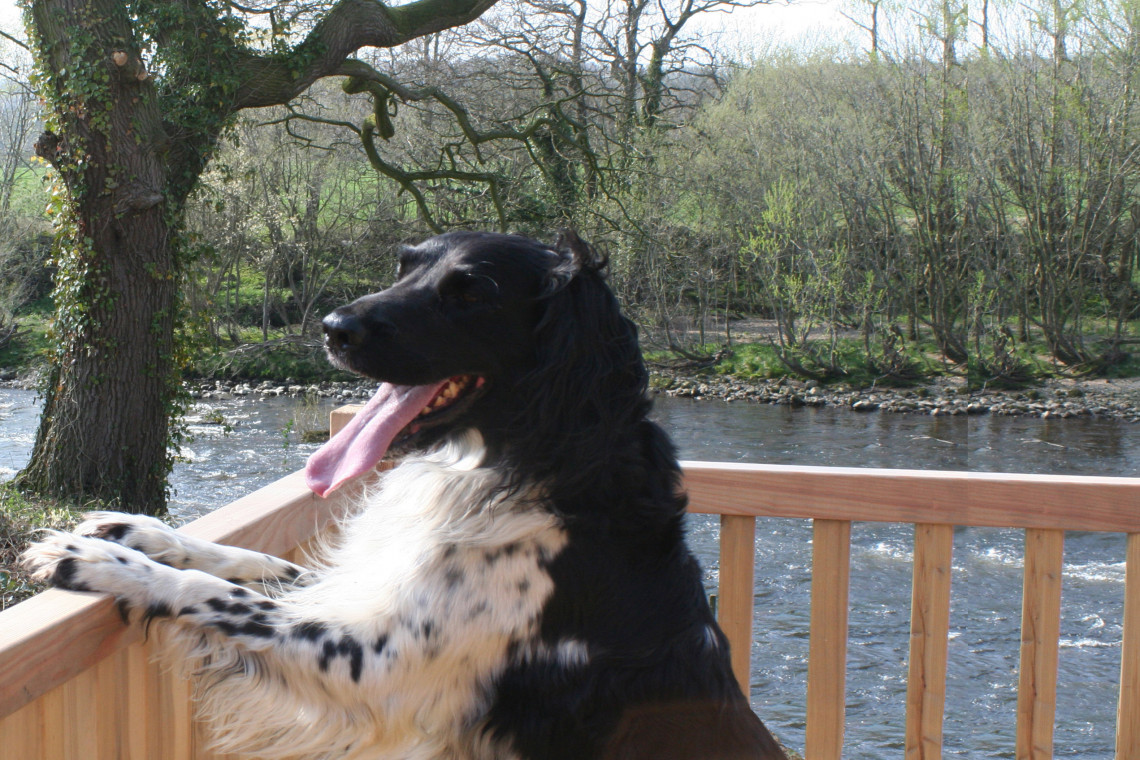 Watching the river from the gated decking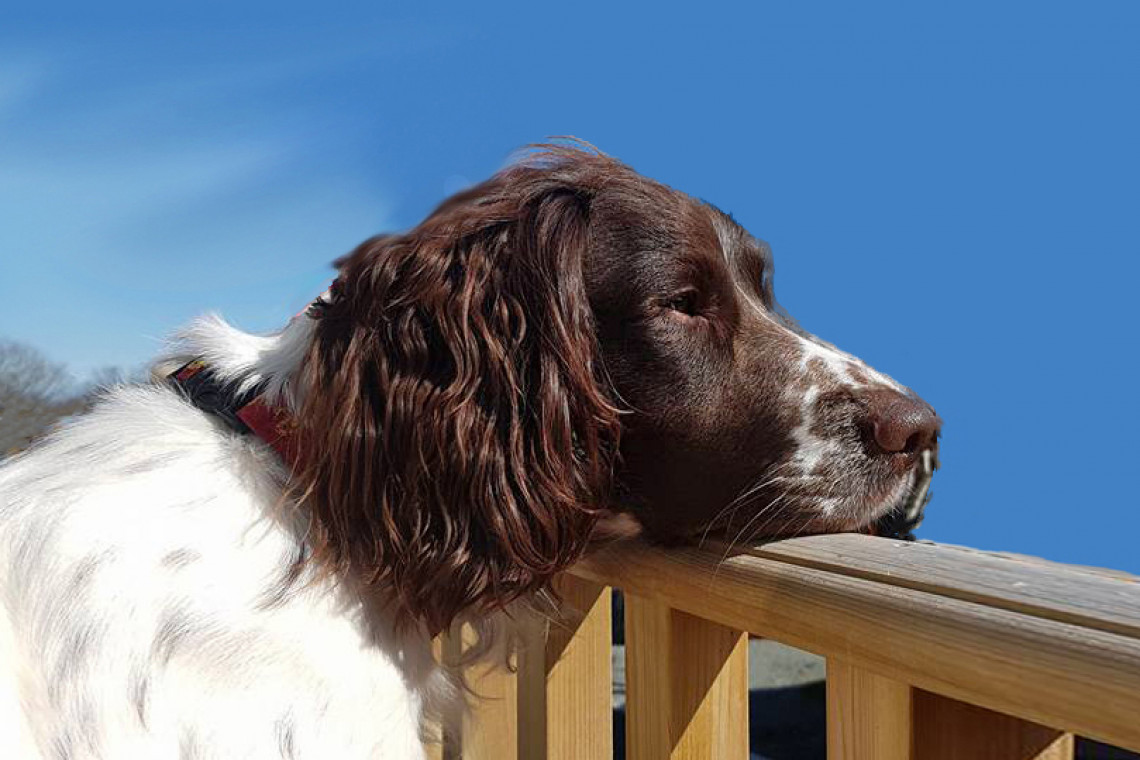 Watching the fields to the other side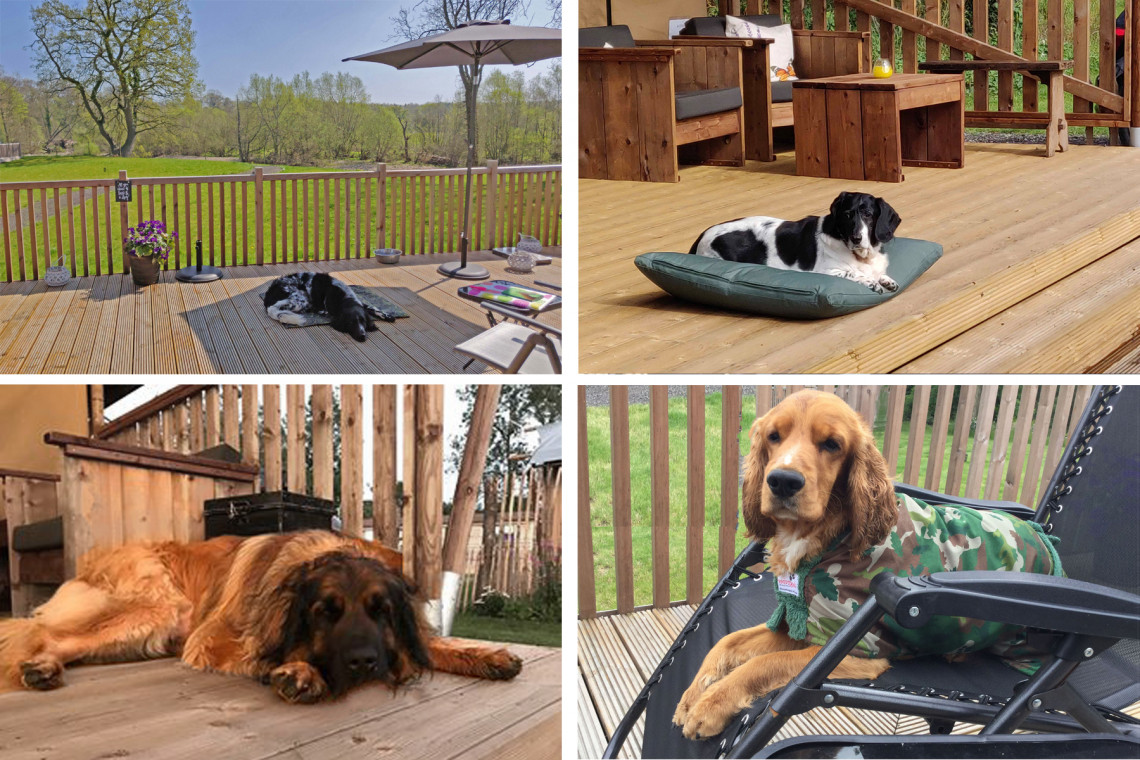 Or chilling on the spacious terrace.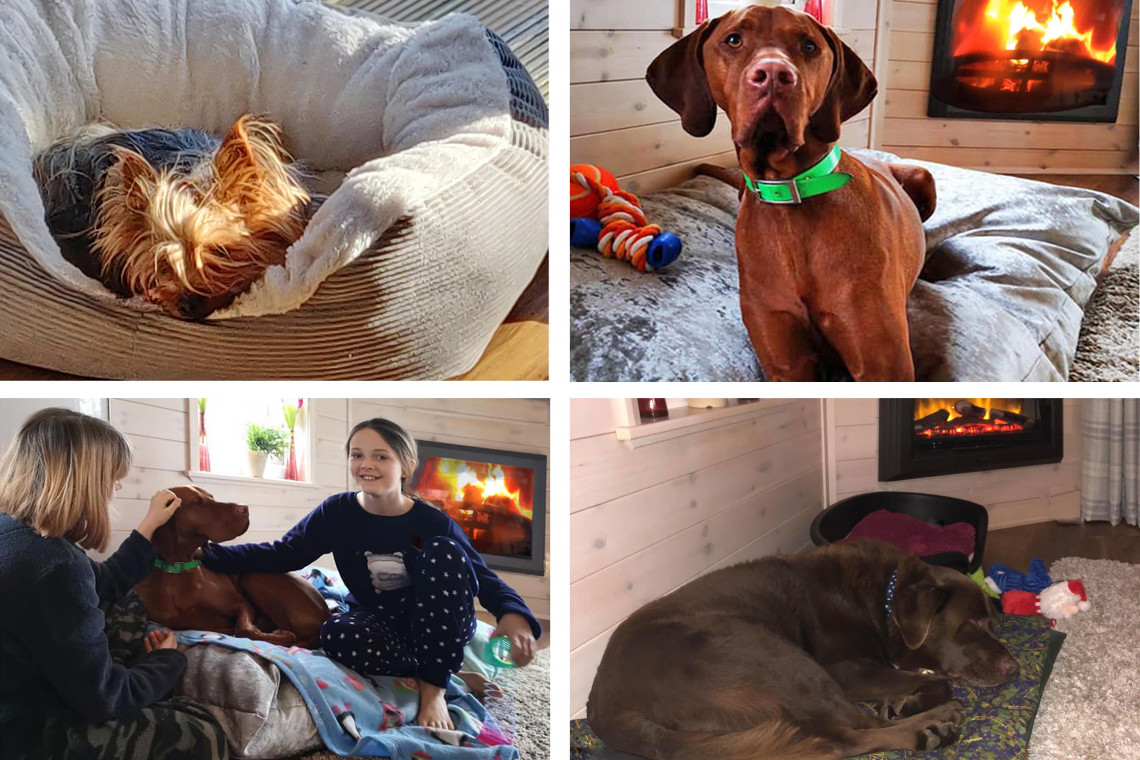 The doggy pillow menu lets them choose the perfect kind of dog bed of basket.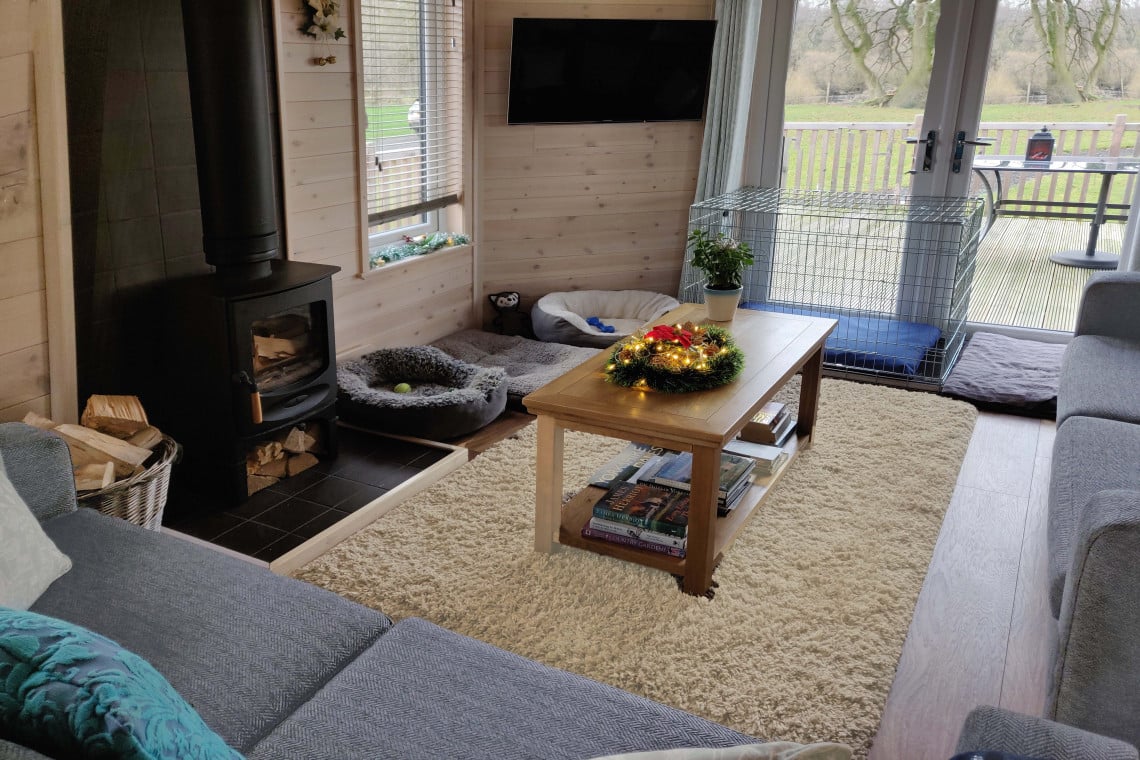 We can even put a crate ready if you like. Here you see Curlew Lodge ready for a mix of dogs.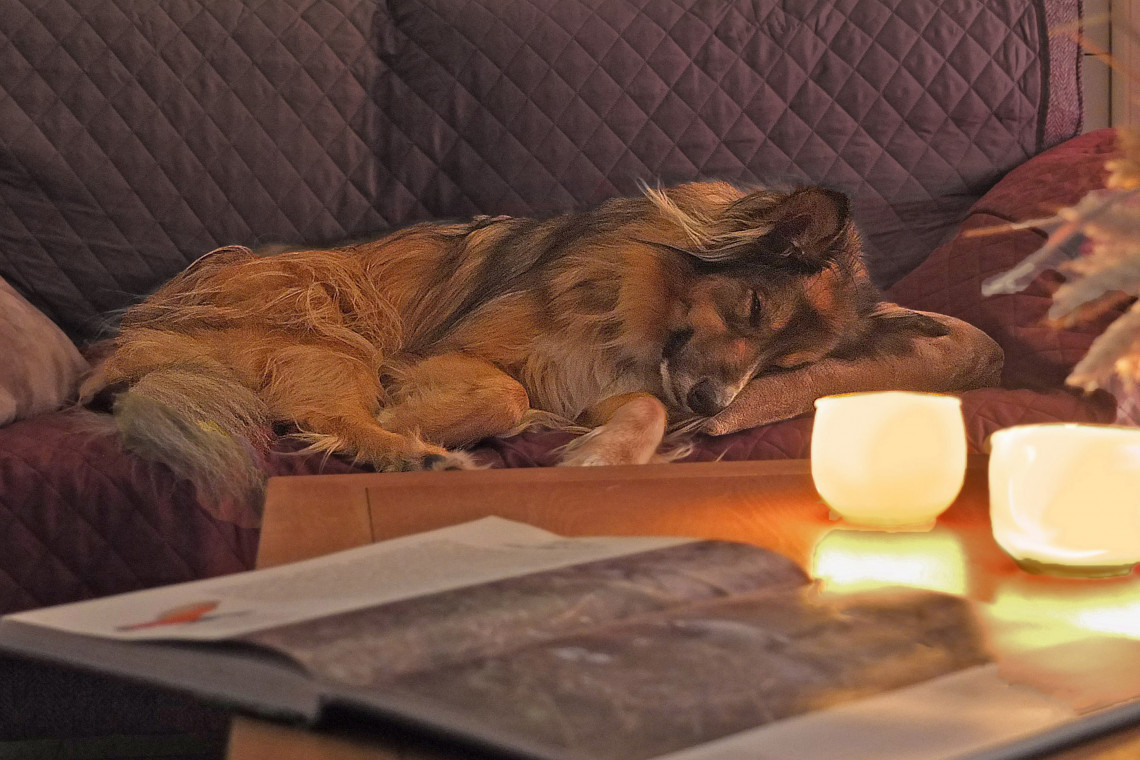 Or maybe they prefer the relaxed luxury of the comfy sofa covers in our 5* Lodges?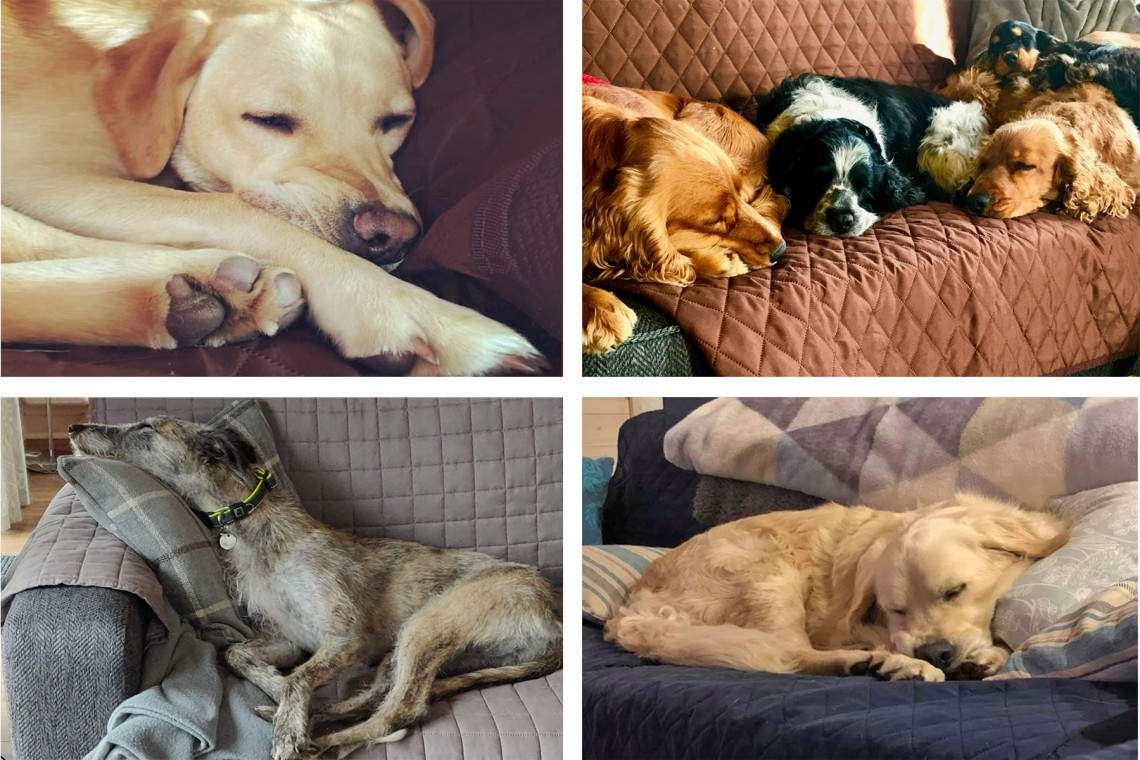 Obviously the sofa is the favourite spot!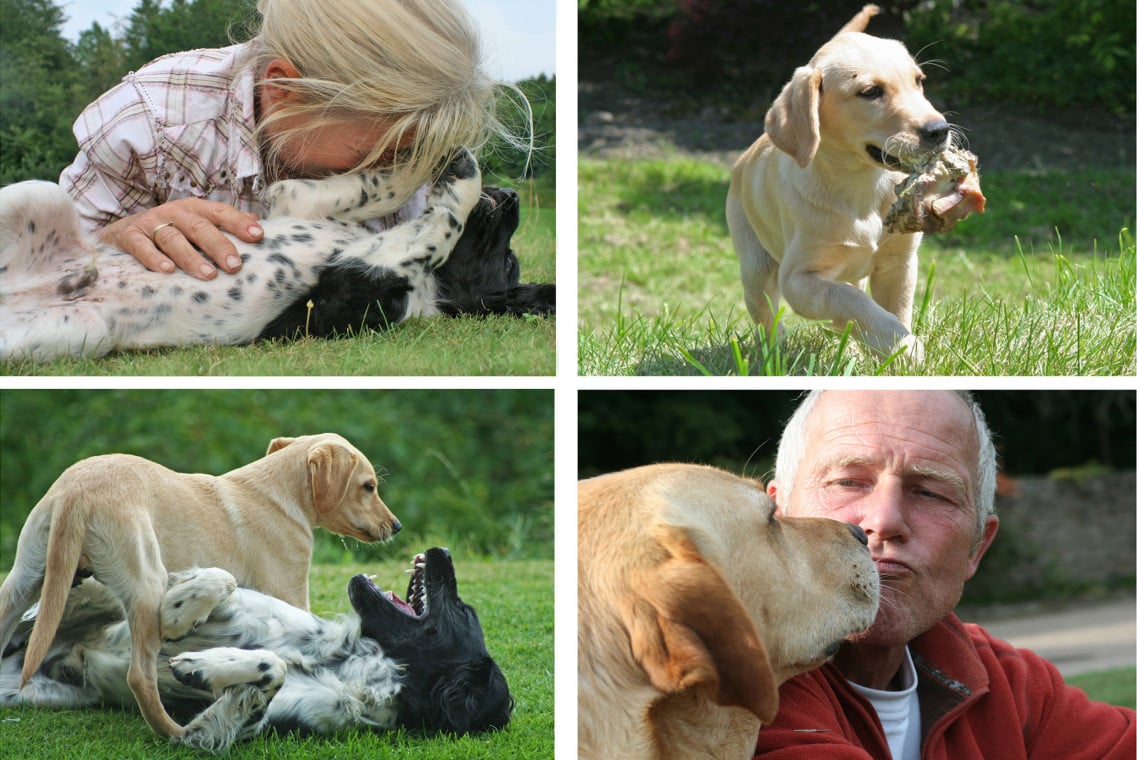 We do not discriminate on age, we pamper the grey and rusty,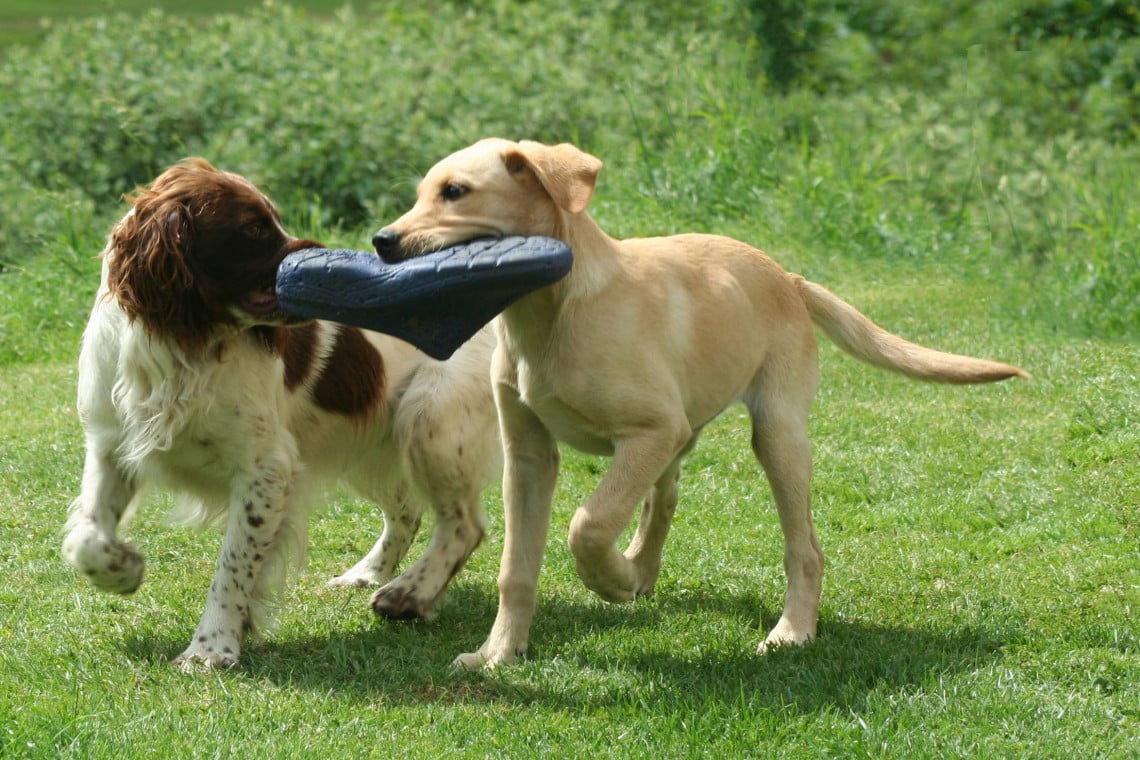 and welcome puppies as soon as they are house trained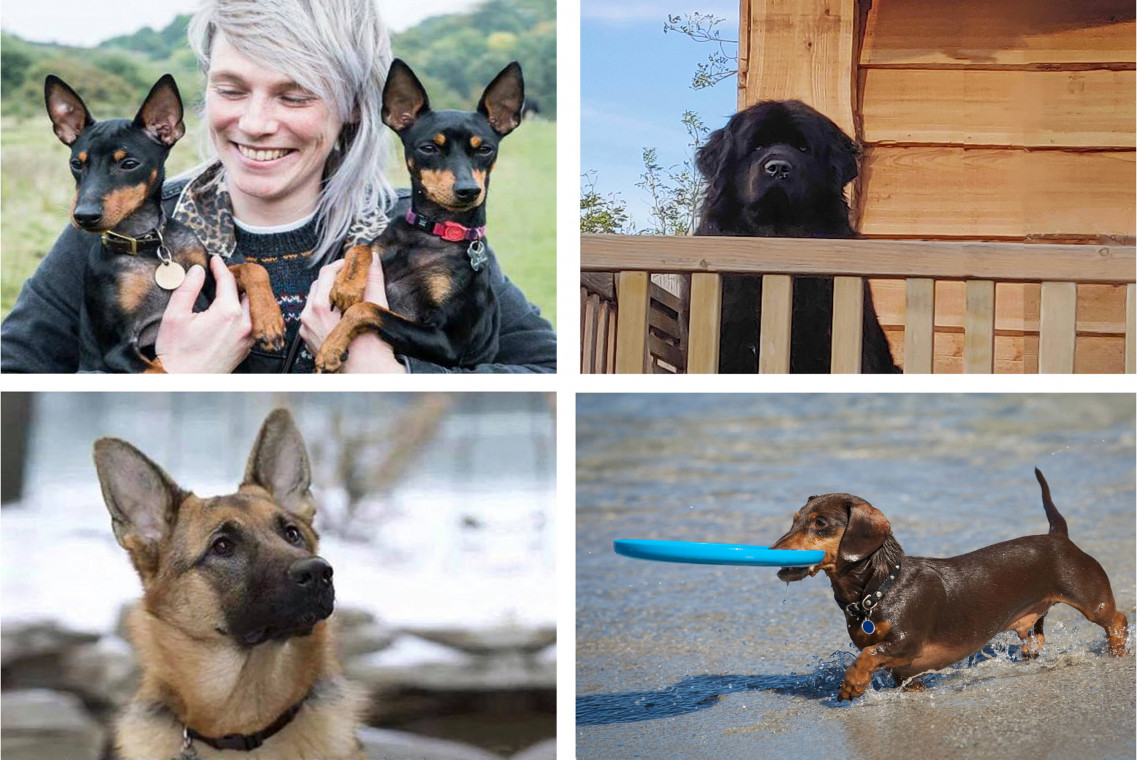 And no limit on size or breed either, we love them all!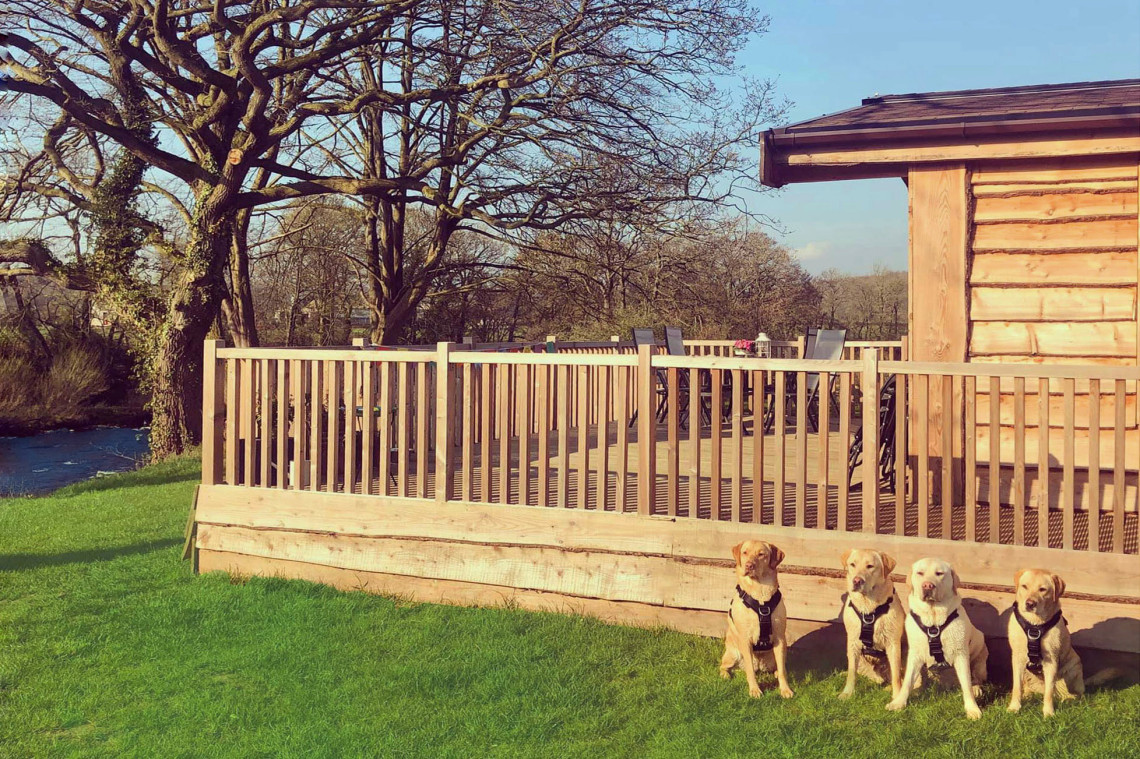 We will very often welcome a few more dogs too! We don't have a fixed limit on dogs numbers, so if it's more than standard, just tell us about your dogs and your people, and what exactly you'd like to book, and then we can see how it would fit in.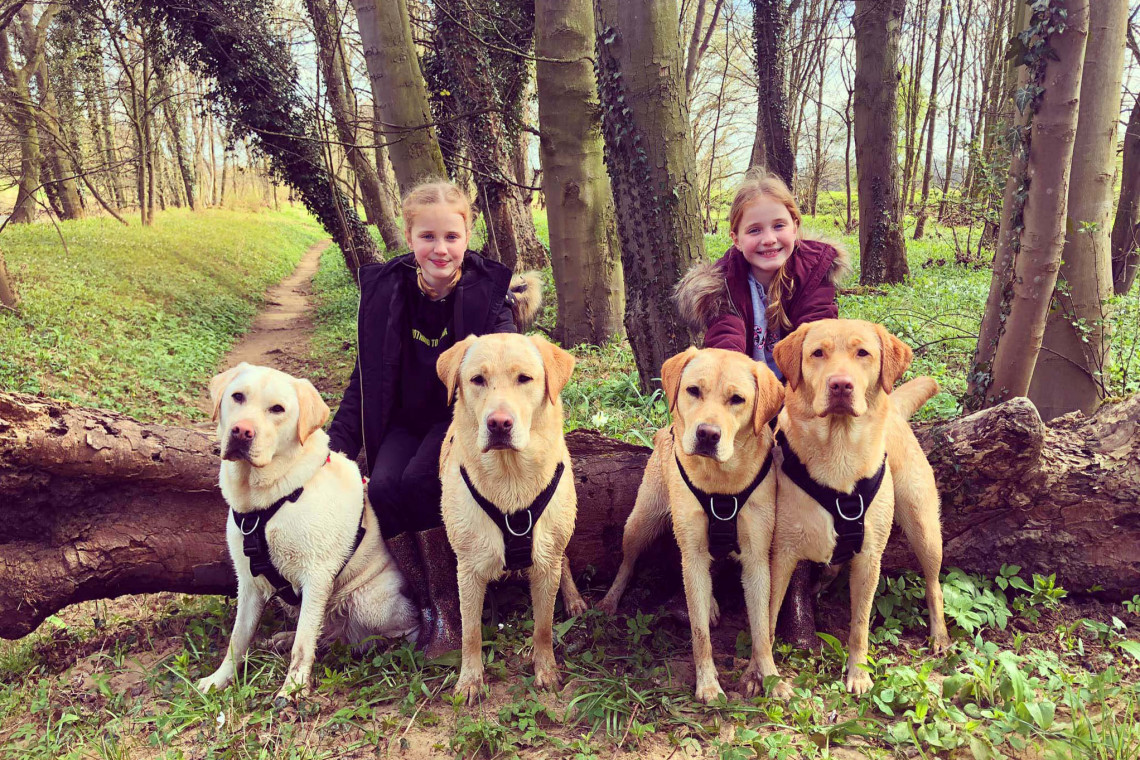 Here an awesome foursome on the walk from the park to the village, taking the path through the wood and following the river.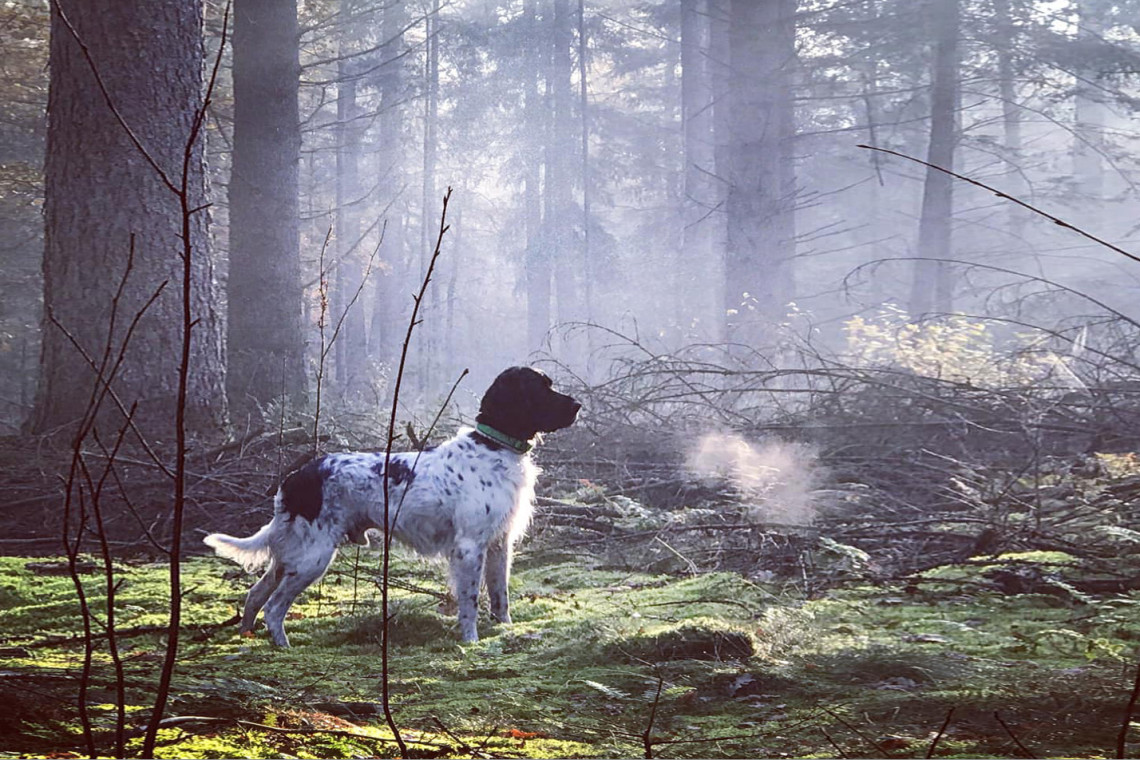 Or head in the opposite direction right from your doorstep for mesmerising walks in the magical woodland of The Woodland Trust, where dogs also are allowed off the lead (if 'under control').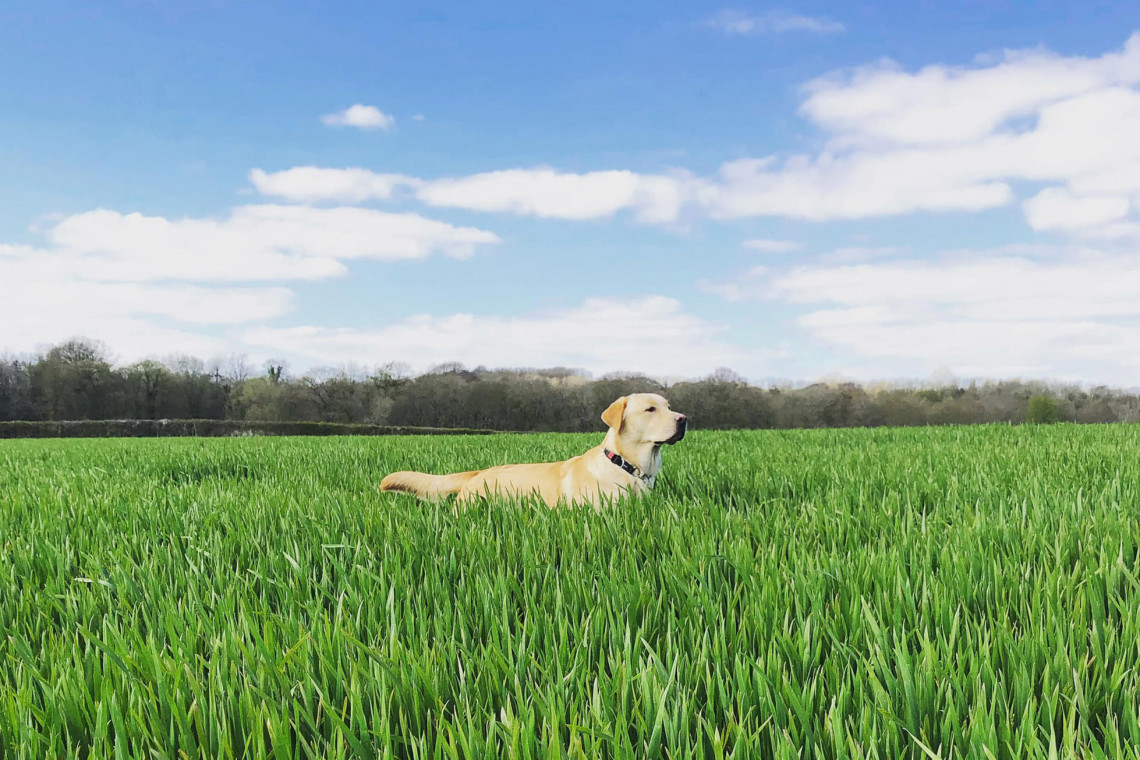 Endless fields to play and run on both sides of the park, and on your walk to our lovely village of West Tanfield! It's just 8 minutes to the pub if you take the short way.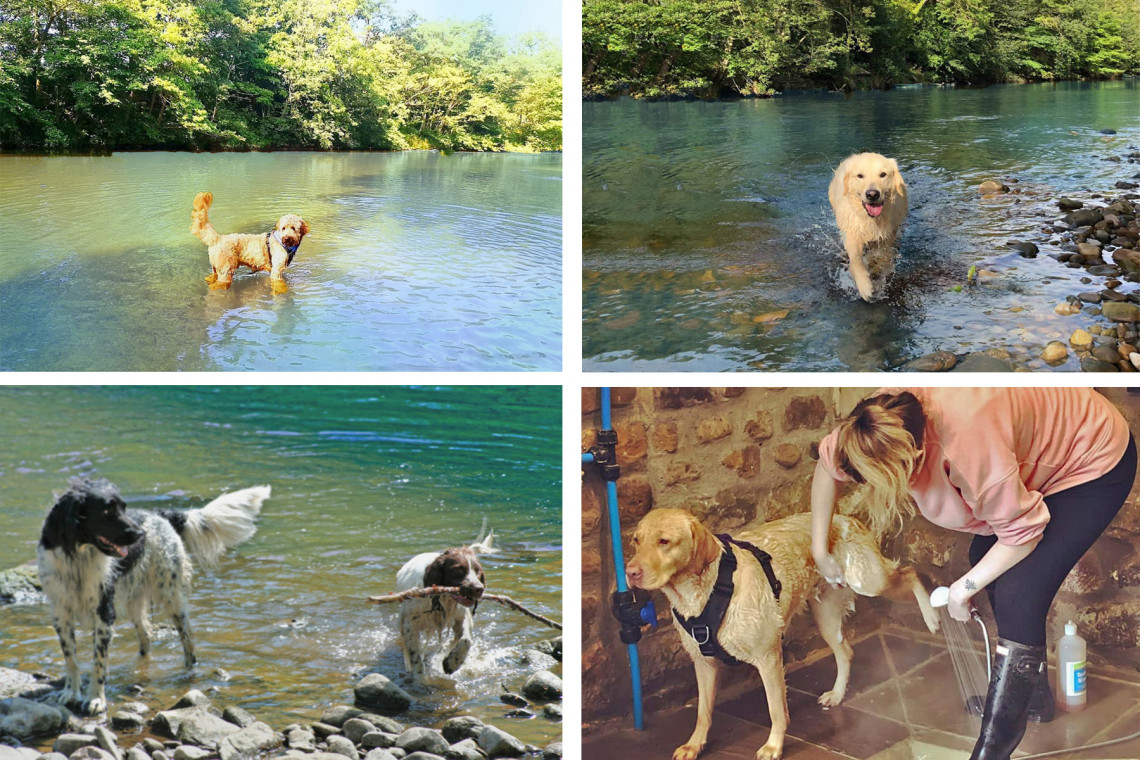 But if you take "the long way around" following the river, you will find plenty of opportunities for a paddle in the river.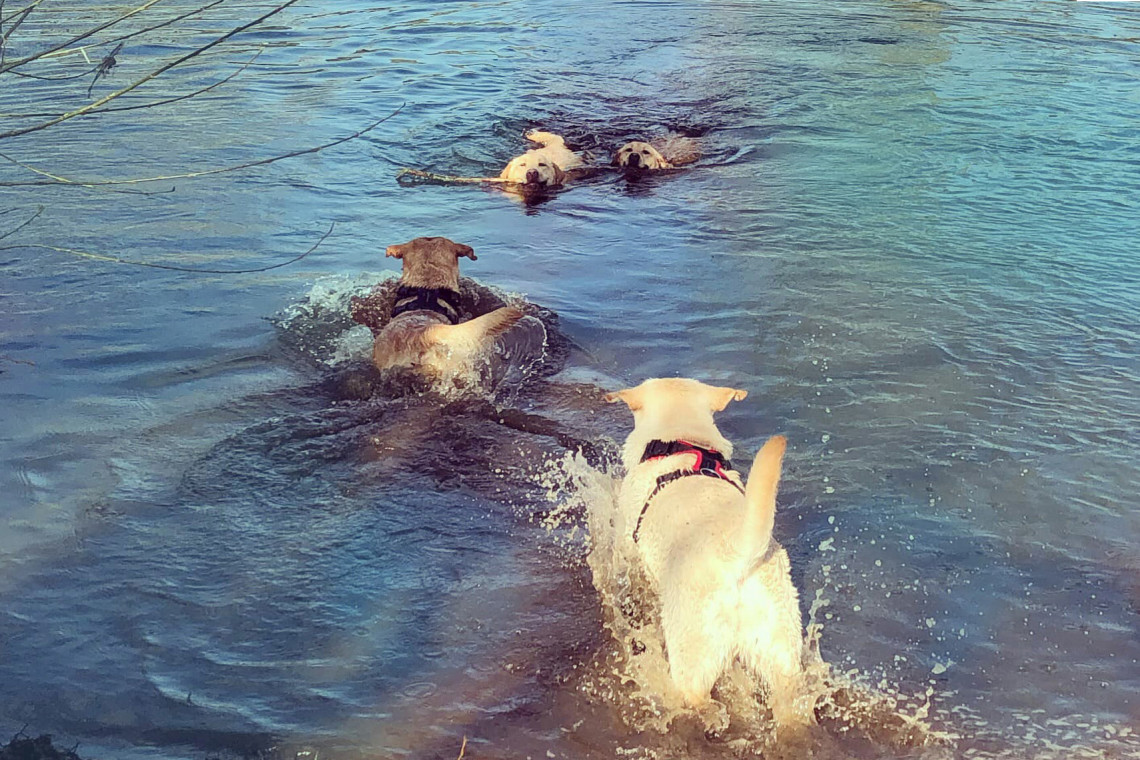 A good splash in the crystal clear water (it's a salmon recovery project too!) will get them freshened up after a muddy walk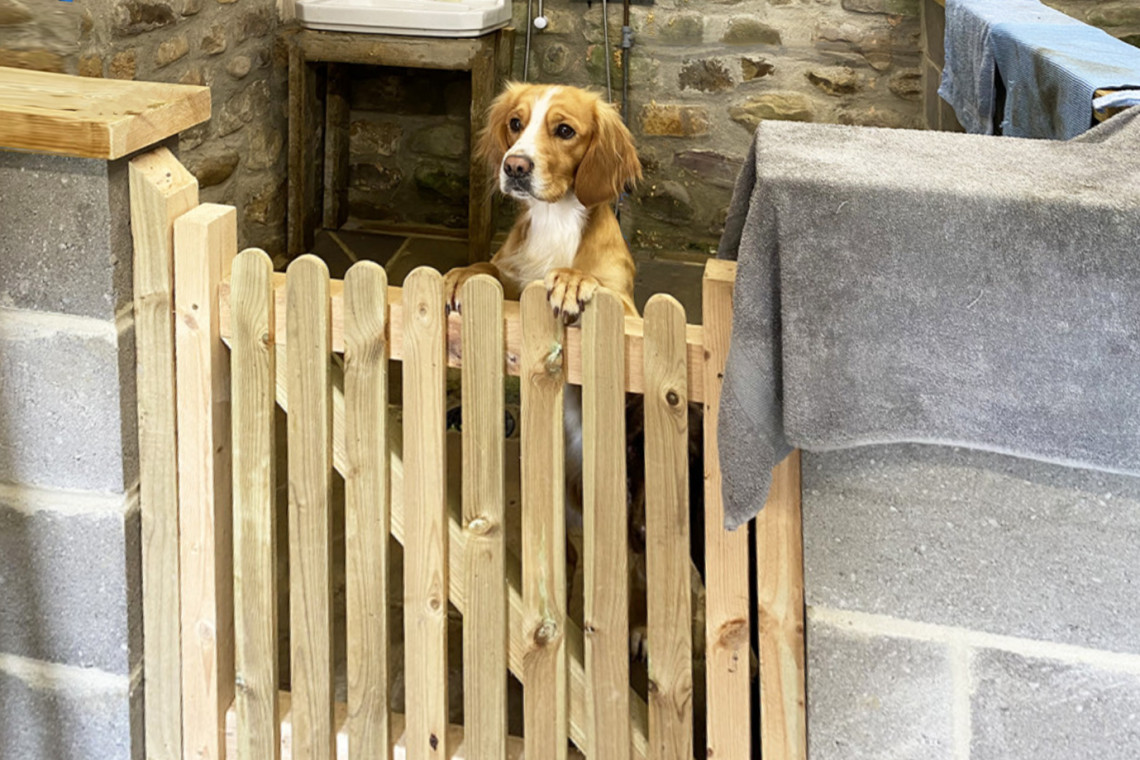 Or you can use the super-practical warm dog shower (shampoo, towels, brushes provided)! Dogs love it!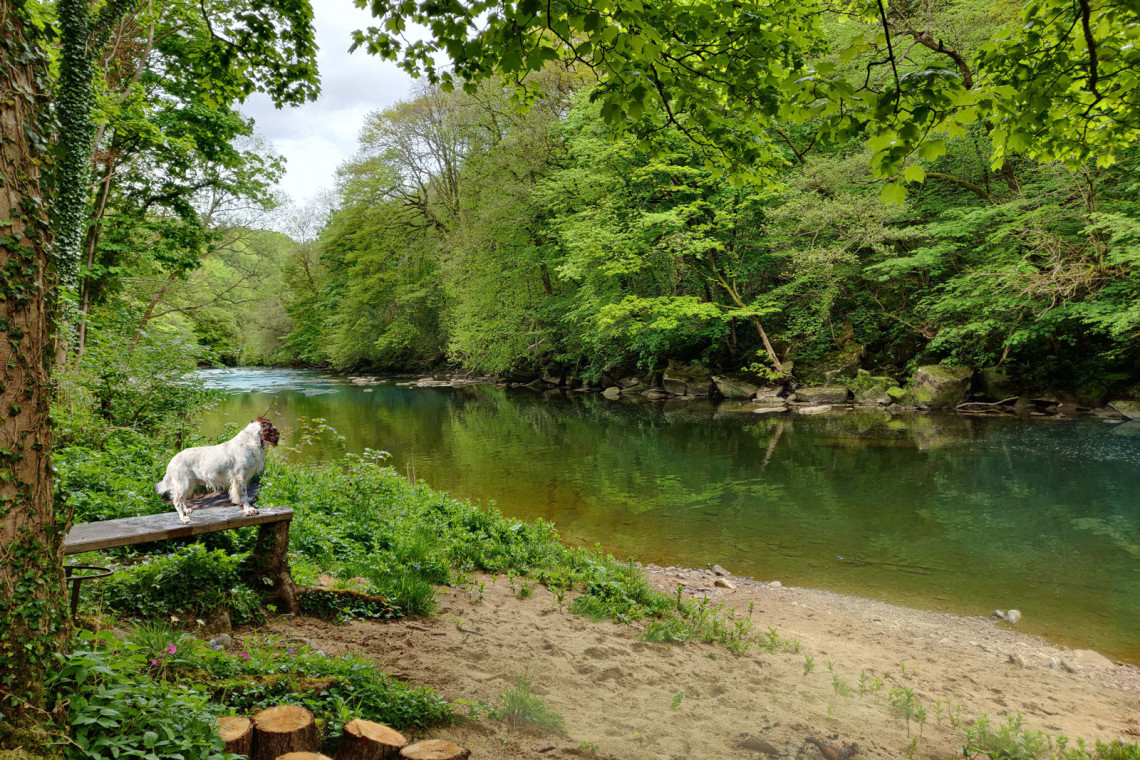 And more beaches to explore on a hike upstream along the River Ure. Here our own dog Bullet looking out over Flat Rock Beach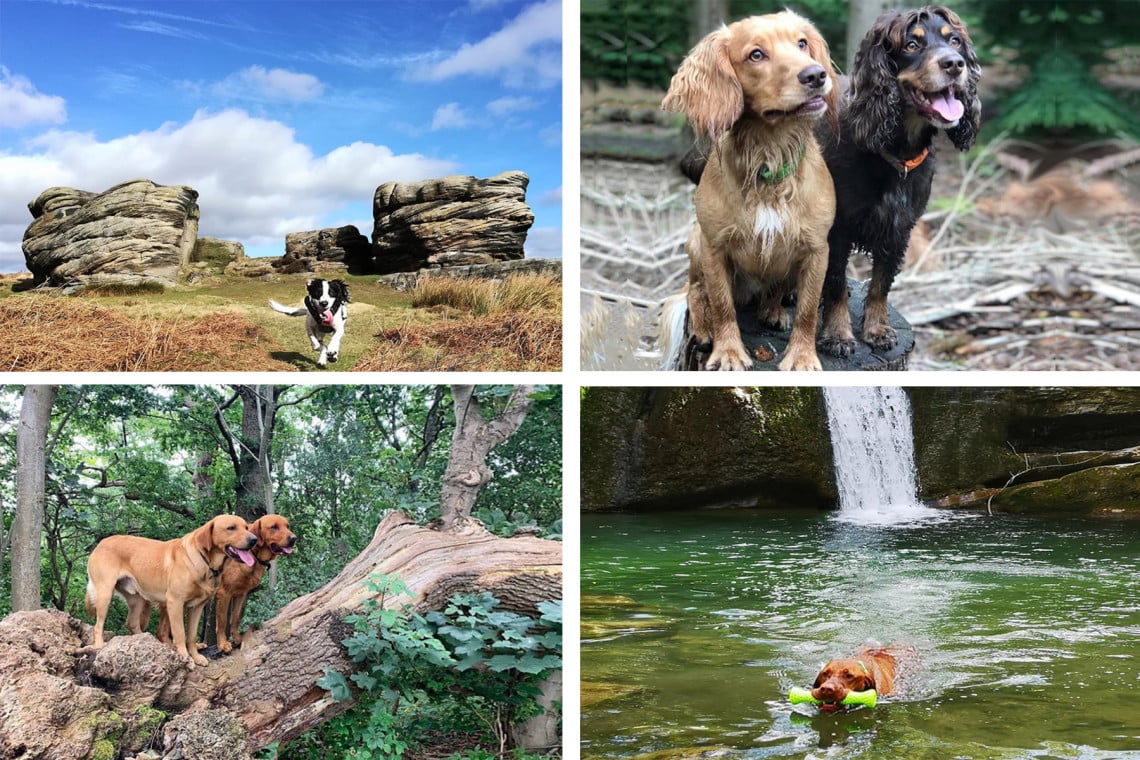 Or hop in the car and discover the peaks and waterfalls of the Dales and the Moors just 15 -25 minutes away. Find more than 60 ideas on the page "Lots to do" on our website!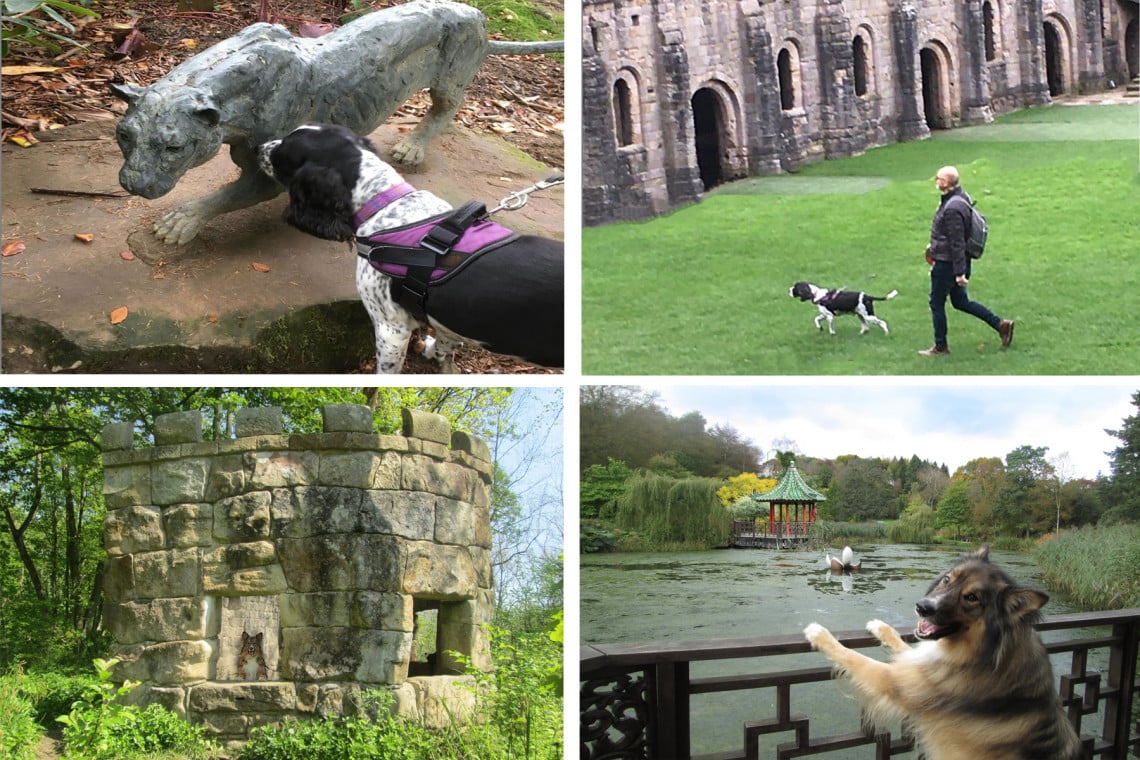 Even a bit of culture, gardens and history is dog-friendly in our neck of the woods! Thorp Perrow, Hackfall, The Himalayan Gardens, Fountains Abbey and Brimham Rocks are favourites!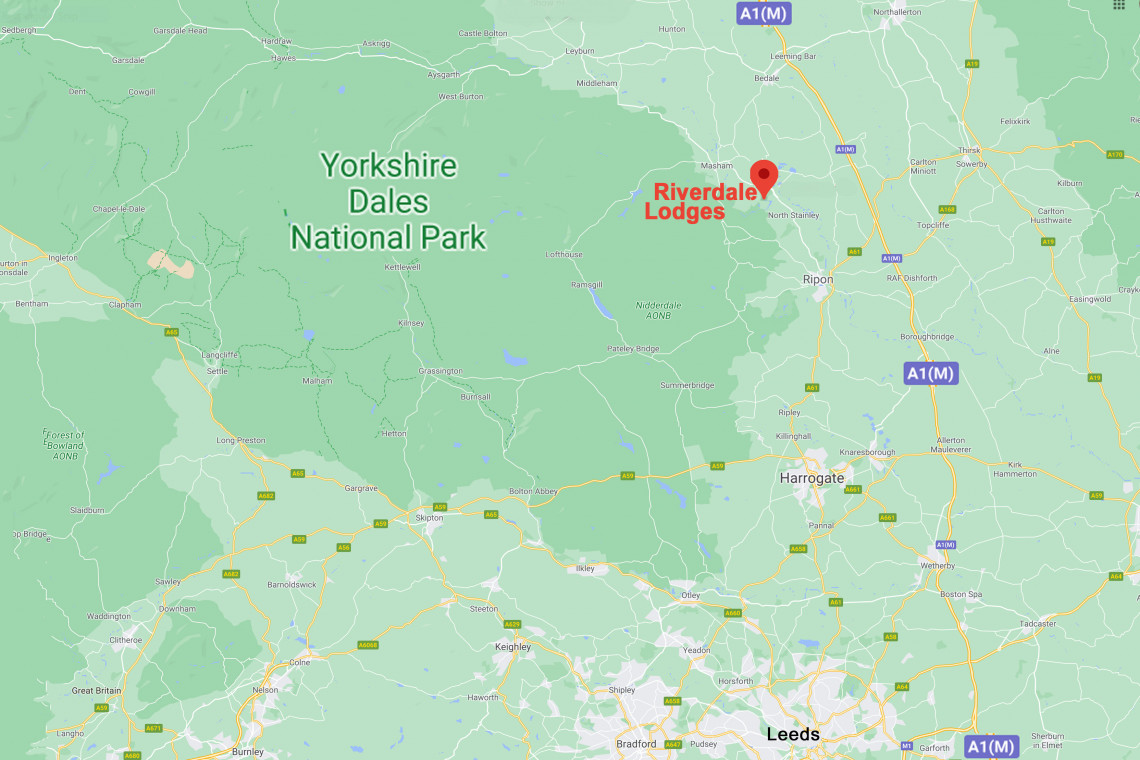 Thanks to our strategic location in the foothills of The Yorkshire Dales, you can have a new adventure every day! Just enter our postcode HG4 5JG on Google Maps to see it's all just a short drive away.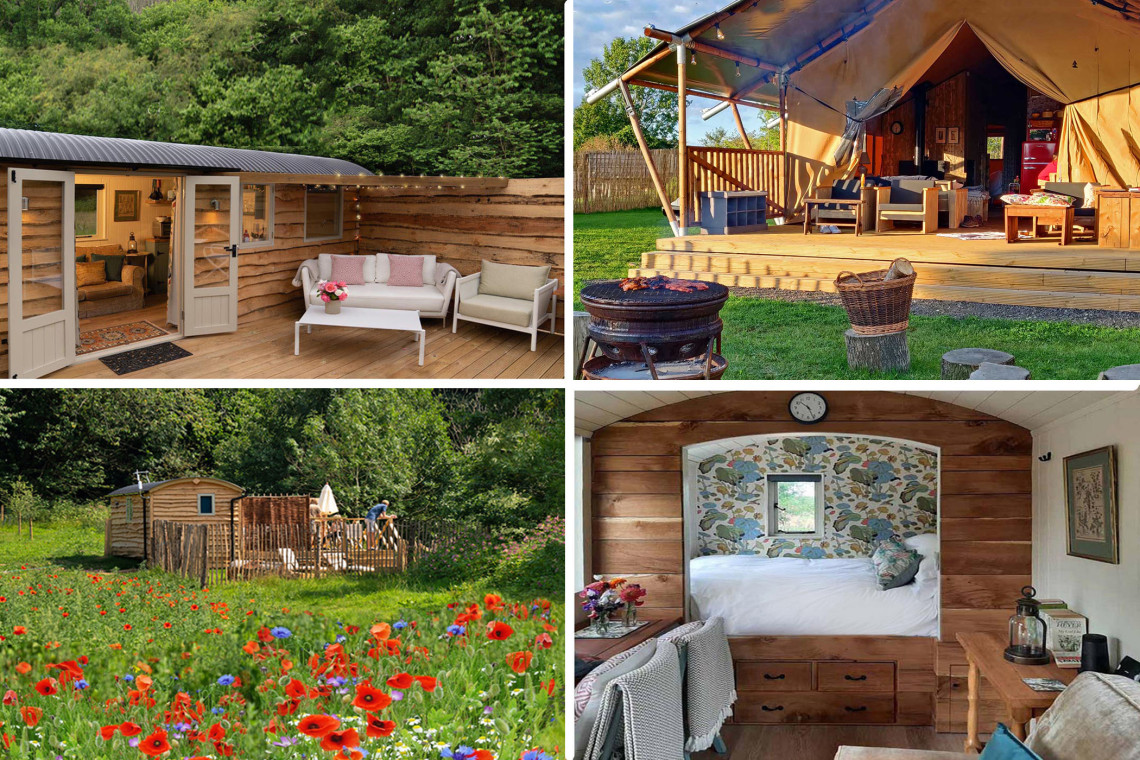 Next to our Grand Luxury Lodges, we also have Riverdale Safari Tents, just as dog-friendly (dogs LOVE life in a Tent!) and our unique Riverdale Couples Retreat. Find them in their own listing here on Dog Friendly or on www.riverdaleruralholidays.com
Riverdale Lodges
(198 reviews)

Exercise Area

Enclosed Garden

Multiple Dogs

No Charge

No Size Limits

Leave Unattended
"EXTREMELY dog-friendly"? Not just a word at Riverdale Lodges, it's who we are! "The most beautiful spot of the Yorkshire Dales"? Arguably so! 5* luxury? Absolutely! Not just the facilities, but also the attention to detail and care for you and your dogs! Read the full story to see how we go above and beyond!
Read More
Do you want to go to a place where everyone will LOVE your dog(s) and want to make sure they have fun too? Do you like the freedom for your dogs to run and play right around your lodge and terrace, for a happy holiday without all the "not-allowed" and "on-the-lead" signs? At Riverdale, you will have all that space and freedom on a unique spot in the middle of nature, at the most beautiful spot of the Yorkshire Dales. We competed in the Dog Friendly Awards when we were new to this, in 2020, and came out on top! The only park in the final-3, and only giving way to the long-standing winner of the last 8 or 10 years (wow!) who did beat us on numbers of votes with 30-plus cottages (we had only 4 lodges at the time 😊).
Our Grand Luxury Lodges and 5* Safari Tents (just 4 of each) share more than 3 acres, and a huge wildflower meadow (5 acres) a little upstream harbours our 4 Couple's Retreats, so it's not your standard park, and ideal if you like a secluded and very private spot. We are right at the riverbank, where you enjoy peace and tranquillity, with only the sound of the birds and the river in front of your terrace, and super off-lead walks right from your doorstep. No traffic anywhere near or on your routes, and lovely stone beaches for a doggy swim!
Have a look at this video to see more! We know Easter is a few months ago, but this video gives you the best overview of the accommodation options and the area around Riverdale, or you might even be tempted to plan your Easter 2024😊!


At a walking distance (8 minutes), there is the cute little village of West Tanfield with a dog-friendly pub with a lovely riverside beer garden, there is a restaurant and a village shop. We are at a very strategic location if you want to explore the highlights of Yorkshire and The Dales, just 2 minutes from the A6108 and a few miles from the M1/A1. Our website has a special page with more than 60 ideas for things to see and do in the nearby area.

Our lodges are extremely well-equipped and offer 5* luxury indoors as well as outdoors on the huge gated terraces. Superb facilities for humans and dogs alike. Not only a human pillow-menu, we even have a doggy pillow-menu: tell us what kind of bed your dogs prefer, and we will make sure that's ready too, new or freshly washed! You and your dogs will feel truly at home, and dogs AND people will be spoilt and very comfy. With our 5* Self-Catering-Plus Formula, it's all taken care of. No worries about what to bring or not, everything you need or can think of is provided and it's all included in our price!
A better look inside our lodges is shown in this video 'What a Beautiful Day', where we proudly show how a lodge will look when you arrive!


Our Lodges sleep 6 people (3 bedrooms and 2 bathrooms) and we think it fits 2 giant dogs, 3 medium/large dogs, 4 small dogs or 5 minis, but we'd rather hear about your dogs than dictate fixed limits upfront, as it will also depend on the number of people. That will be about the same for our Safari Tents, where you have a level of luxury that far exceeds the usual "glamping" experience, and we will happily discuss with you how our all-natural garden fencing will suit to keep your dogs in! (More about our 4 Safari Tents, and extra pictures of the super-luxurious tents, in our listing in the section Camping, https://www.dogfriendly.co.uk/camping-and-caravanning/listing/riverdale-lodges-79766). Regarding dog numbers for our Couple's Retreats, there you have to keep in mind that the space is limited. The Retreats are a glamorous and individually styled adaptation of a traditional shepherd's hut, with a lot of extra living space outside, but the indoor floor space is too small for big numbers of dogs, should the weather make you stay inside. But we are always happy to discuss how your dogs would fit it. See here a video impression that will say more than words!

What makes us so different?
Riverdale is managed in a very professional way with a daily updated website with tonnes of information, hundreds of pictures and a sophisticated online booking system, yet we are small enough to personally care about you and your well-being. That's why you can ONLY book with us direct, online on our website www.riverdaleruralholidays.com or by contacting us at 01677 470532 or [email protected]. We don't use any agencies as we want to make sure all the details are just right for YOU and for your dogs. That way, we can ask you for any special wishes on how to prepare for you and your dogs!
All our guests bring dogs,
so you will not be restricted to a specific accommodation that maybe would not have been your first choice. You can choose any of our 4 lodges, 4 tents and 3 retreats. And you can be just relaxed about bringing dogs, as nobody cares if they bark when they see someone walking past in the distance or get loud and excited when you take them for a walk. We only host dog lovers! And we can even help if you need to be sure that other dogs are kept well away and out of sight if you have a reactive dog. We welcome every guest personally and talk or email them upfront (or we know them already, we have an incredible repeater rate!), so it's a little effort for us to pass on a special request for a special-needs dog and sort this for you! And of course, we have our own dog too, but I ticked the "no-dog" box in our standard info because I keep him out of your way until I know you'd like him to meet your dog(s).

If you want to know more,
then you should have a browse on our website www.riverdaleruralholidays.com. Don't forget to check the page "For your Dogs" with all the details, and see the page "Reviews" to hear a hundred times that it's all true! We never had a review that wasn't 5 stars, so we show them all! Our Facebook page @RiverdaleLodges is also a good source of information with dozens of independent reviews, or Google us for more 5-star reviews!

DO NOT SEND THE ENQUIRY FORM JUST TO ASK FOR AVAILABILITY OR PRICES.
If you just want to know whether it's available or what the price is, then it's MUCH QUICKER and EASIER to see that for yourself on our 'Book Now' Page www.riverdaleruralholidays.com/book and click the dates to see the price. Sending a form will only delay how soon you will know it. Give us a call if you can't work it out and we can look at the Book Now page for you and tell you immediately what you want to know! And if you have any specific questions after you had a good browse on our website, just call us between 10 am and 10 pm (7 days a week) on 01677 470532. We love to tell you about our Lodges, Safari Tents, or Couple's Retreats and we love even more to hear about your dogs!

Kind regards,
Ingrid and Han
PS: You can see a lot more pictures and learn more about the Safari Tents in our listing Riverdale Safari Tents (category Glamping, www.dogfriendly.co.uk/camping-and-caravanning/listing/riverdale-lodges-79766)

Dogfriendly Magazine Review
Read our comprehensive review of this listing printed in our bi-monthly magazine.
Riverdale Lodges,
by Andy Craig.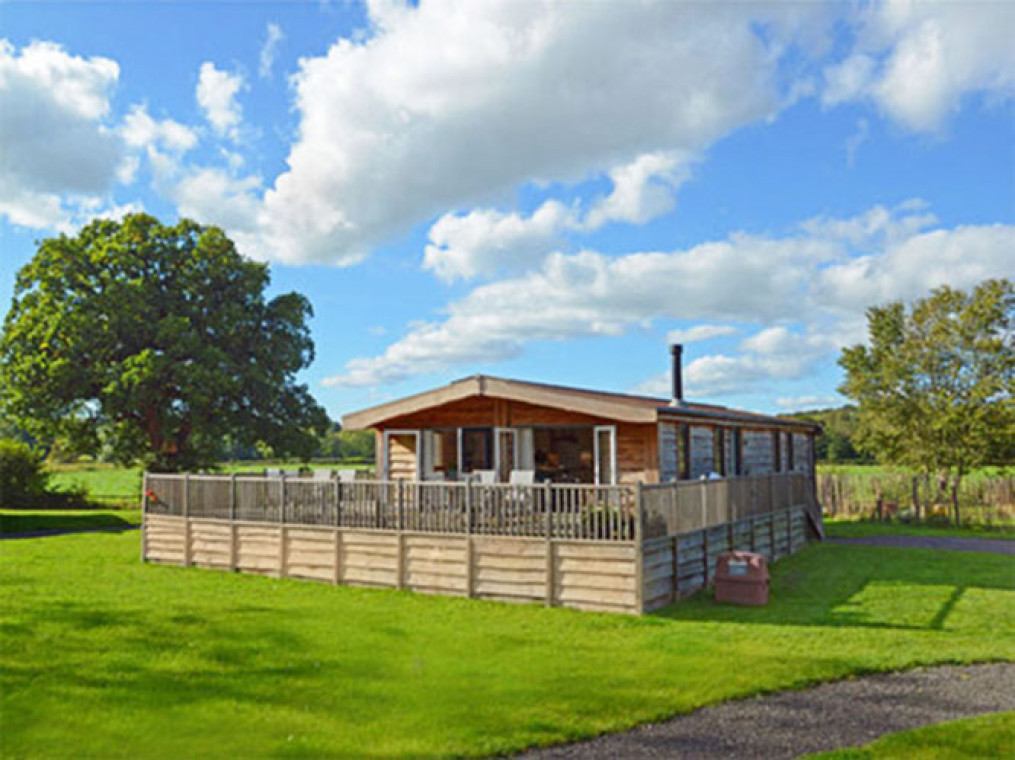 'Curlew' is one of four luxurious wooden lodges at Riverdale (there are also four safari tents). The lodges have three bedrooms sleeping six in comfort. They are extremely well equipped with everything you could possibly need for a holiday including Wi-Fi, fridge and freezer, dishwasher, washing machine and nice touches such as umbrellas and fans (depending on the weather). There is a wood burning stove in Curlew Lodge with a generous supply of wood, kindling and firelighters. The loges are light and airy and warm and cosy. The lodges and tents are cleverly positioned to offer privacy. The reception block has a dog wash facility with a warm shower and shampoo which is very useful for those inevitable muddy paws. Dog treats, dog bowls, dog towels, toys and the option of dog beds are all provided. Their personalised dog treats were exceptional!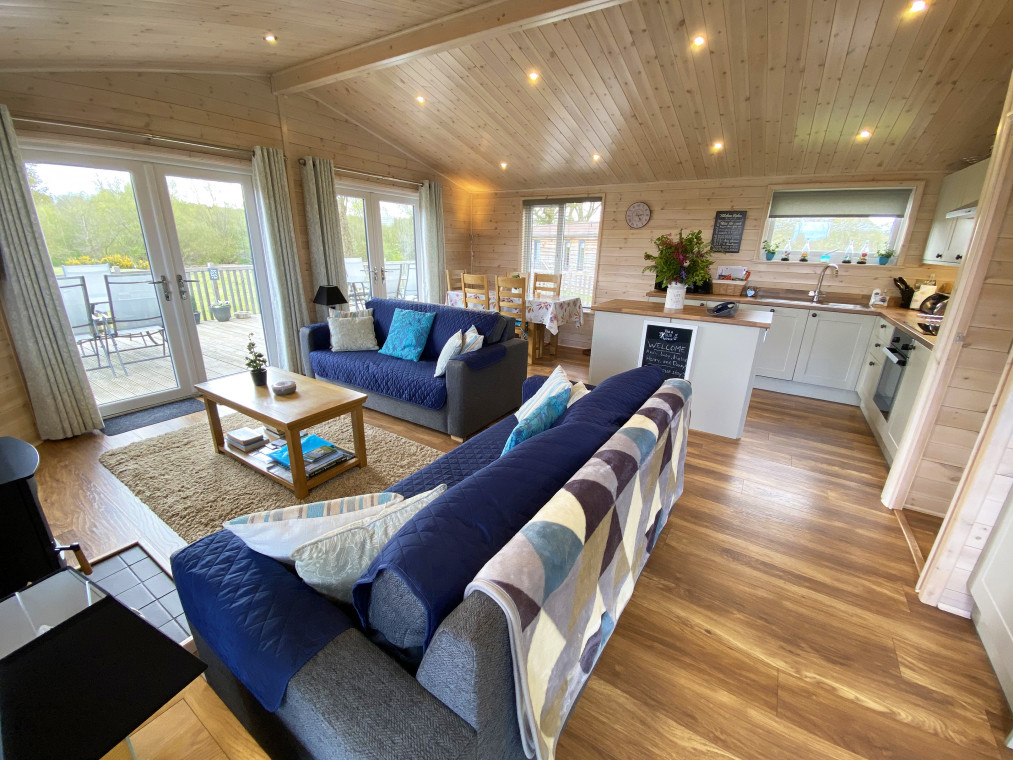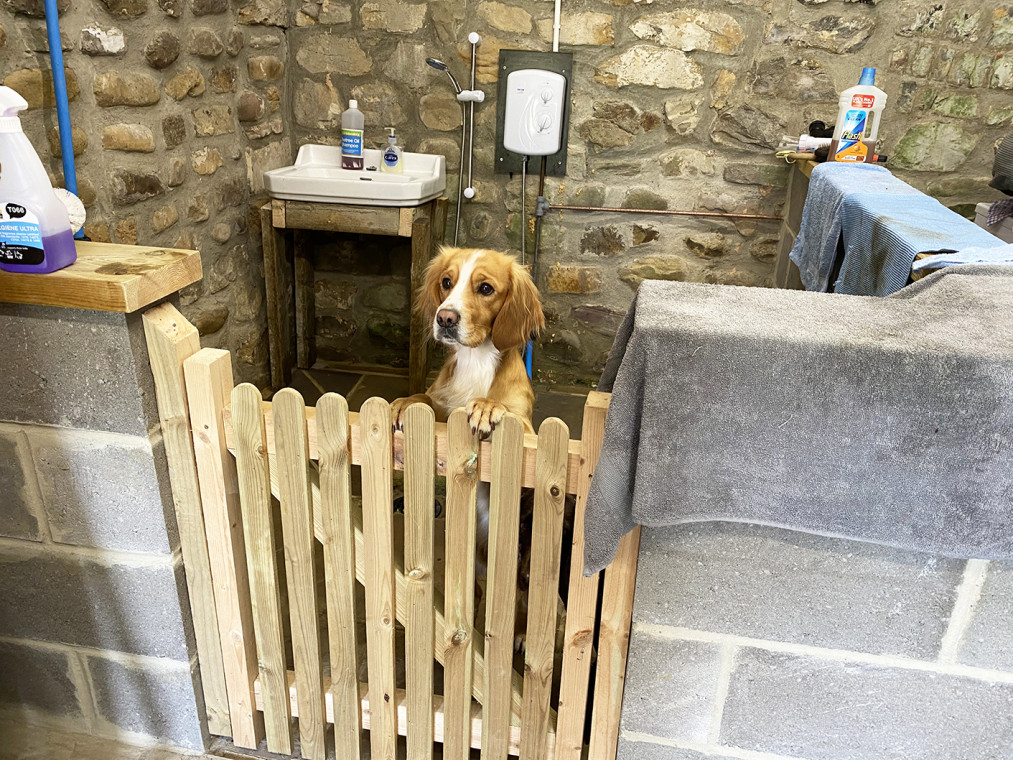 Riverdale sits among farmland and beside a beautiful river lined by trees. There is an outside firepit/barbecue area, and the grounds are well maintained and attractive. Two walks lead from the park; one very attractive riverside and woodland walk to West Tanfield (where the Bull Inn will quench your thirst) and in the other direction a circular walk (described in a leaflet in the lodge) takes you through woods and field edges before returning to the river. These are both perfect for short dog walks or can be extended to provide longer outings.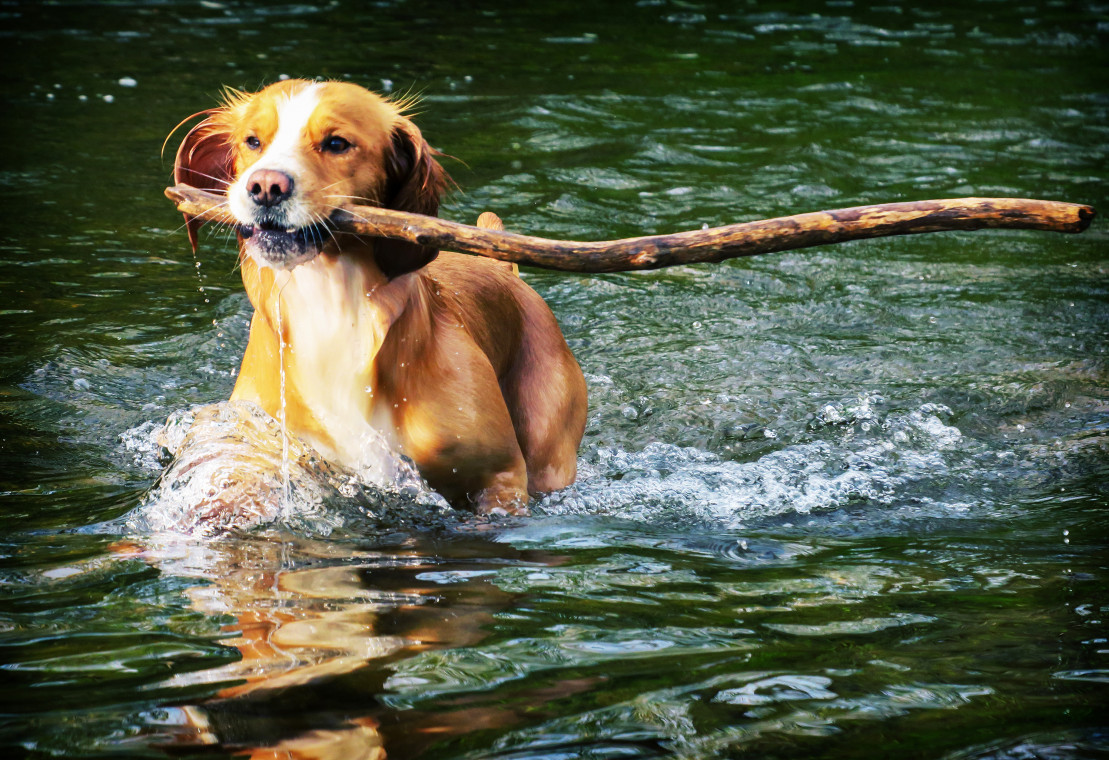 West Tanfield is an attractive small village just half a mile from the lodges with two pubs and a small shop. The nearby area has many attractions; Fountains Abbey and Studley Royal (nationaltrust.org.uk/fountains-abbeyand- studley-royal-water-garden) allows dogs on leads to stroll through fascinating historical but manicured grounds, the Himalayan Garden is dog friendly (on lead) and has over 80 art works and sculptures to discover, bustling Masham is a village with two breweries and many excellent pubs and cafes. Both Theakston (theakstons.co.uk) and Black Sheep (blacksheepbrewery.com) breweries offer tours, Hackfall is an extraordinary Victorian estate full of surprises which is managed by the woodland trust (hackfall. org.uk). The old Victorian estate offers miles of dog friendly walking on a network of rough and ready, and sometimes hilly paths.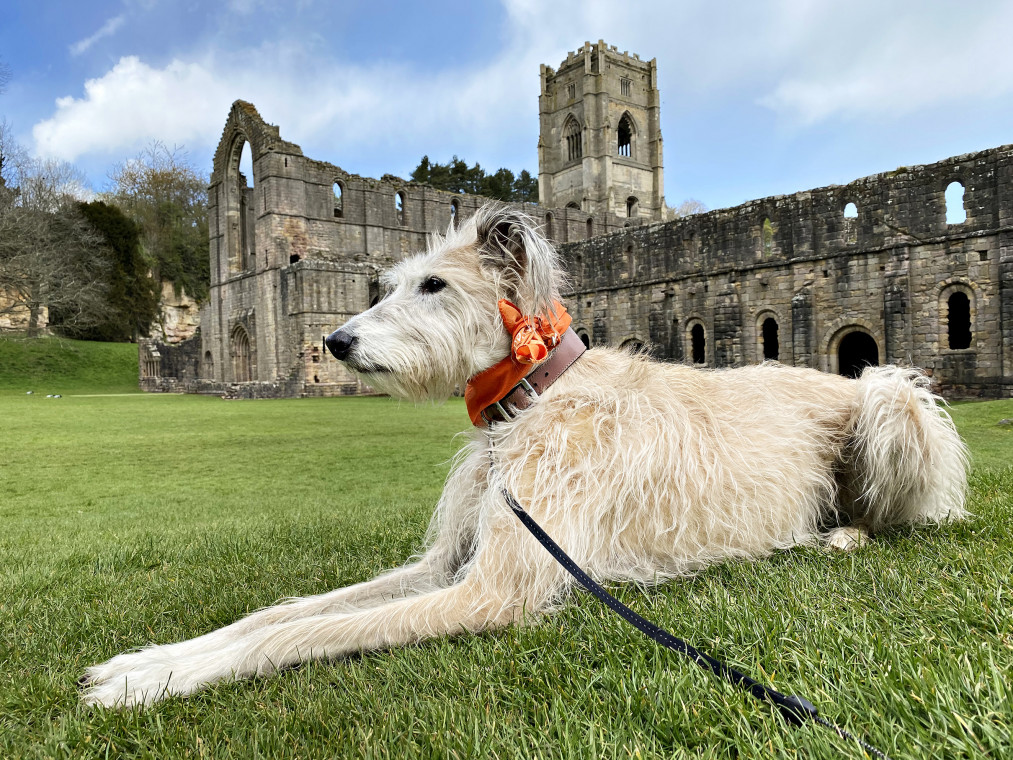 The attention to detail from the team at Riverdale is second to none. In advance of our stay, we received personalised directions from our home to the door of our lodge and on arrival Ingrid gave us a personal welcome including a beautiful floral arrangement and many suggestions for what the area had to offer. Of course, our dogs insisted that the first thing on the agenda was a dog walk and we started with an exploration of the local woods courtesy of a helpful leaflet in the lodge. Our springtime visit meant we walked through bluebells and wildflowers, but the woodland and riverside are clearly beautiful all year round. We drove the few miles to Masham where we enjoyed a cup of tea and a scone at Bordar House in the sunny market square while the dogs relaxed beside us. Next day we were up early to explore the 'wilderness' landscapes of Hackfall. In the 18th century this tree-lined riverside valley was adorned with a series of delightful follies and features such as waterfalls and bridges. They were designed to entertain and every corner and they still do to this day. The paths are quite wild and muddy in places, so it provided a workout for all our legs (except for young Henry of course) but it was so interesting that at no point did we feel tired wandering around the paths.
We had booked ourselves into the Bull Inn at West Tanfield (thebullwesttanfield. co.uk) for dinner. The weather was good enough that we could enjoy the pub's beautiful riverside beer garden and, being just half a mile from our lodge at Riverdale, it was a pleasant walk to the pub so we could both enjoy a pint or two before wandering back to our cosy lodge and the wood stove.
Every morning starts with a dog walk of course, but after that, when the sun shines, it's tempting to flop down onto a patio chair, listen to the birds and the sound of the river and not go anywhere. After a relaxing (lazy) morning on our sun terrace we did rouse ourselves and headed across to Fountains Abbey.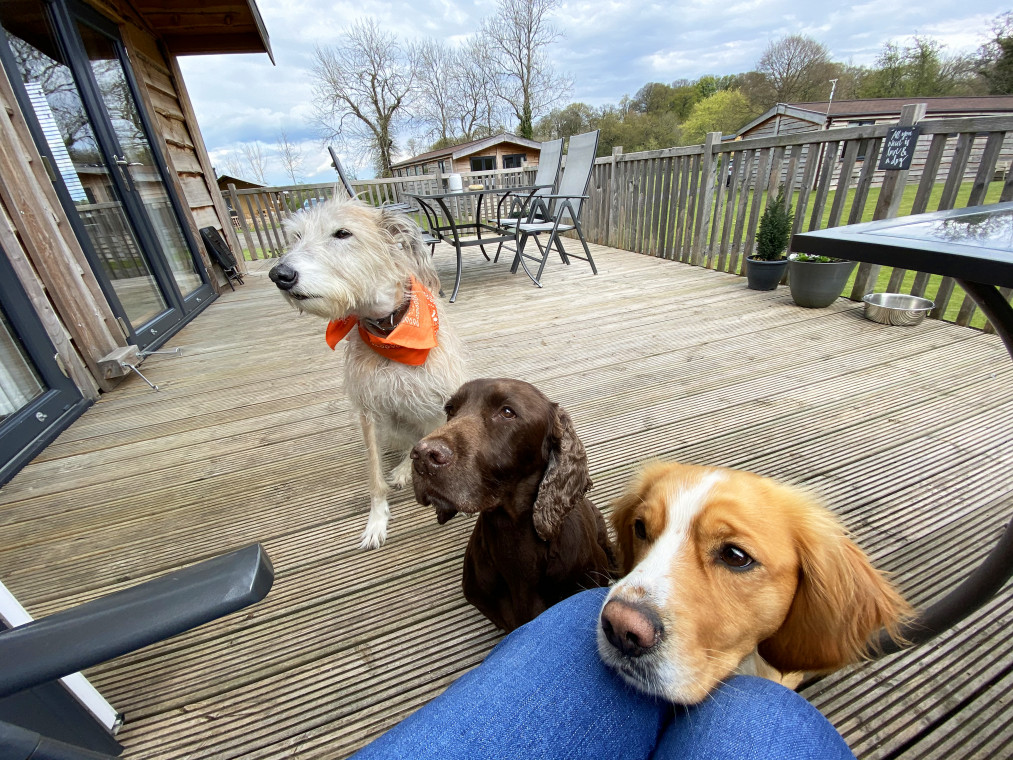 The dogs were happy to trot around on their leads as it's not the sort of place for dogs running wild and free. The fascinating historical abbey combines into one National Trust attraction with the Studley Royal water gardens and it's easy to lose another few hours exploring the site and finding a picnic bench to relax with the dogs lounging on the grass.
Riverdale Lodges, review by Andy Craig appears in DogFriendly magazine issue 66.
For more information on the DogFriendly magazine visit https://www.dogfriendly.co.uk/magazine
---
(198 reviews)
Mags Dignam, August 2023
It's such a beautiful setting. A perfect place to take our puppy for lovely walks 🐕‍🦺
Jamie, July 2023
Incredibly peaceful, private and relaxing location, amazing facilities for us and our dog. Wonderful friendly and helpful team running the lodges made our stay a breeze.
Looking forward to visiting again.
Norma Zaozirnyj, August 2022
Had a lovely stay last year, would love to return
Read All Reviews Write A Review
---
Listing Updated: 02/09/2023
Changes to businesses do occur. Please do double check this business is still dog friendly before you make a booking
---
---
This listing has a 10% discount for Club & VIP members! Find Out More
Listing Address
Riverdale Lodges
West Tanfield
Ripon
North Yorkshire
Yorkshire Dales
HG4 5JG
England
01677470532
Website
Listing Details
Can Leave Dog Unattended
Yes
---
Exercise Area
Yes
---
Wheel Chair Access
Yes
---
Owner Has A Dog
No
---
Limit On Dog Size
No Limit
---
No. Of Dogs Welcome
3
---
Charge For Dogs
No
---
Miscellaneous Notes
No charge for dogs and all the extras: dog beds, crates on request, dog towels, throws, toys, treats, warm dog shower- and grooming facilities Dog size limits: not a fixed rule and usually we can host 2 giant, 3 med/large, 4 small, 5 mini, but just contact us to tell us about your dog-pack if you have a few more than average!
---
Enclosed Garden Confirmed
Yes
---
Bedrooms
3
---
Bathrooms
2
---
Sleeps
6
---
Dog Welcome Pack
Yes
---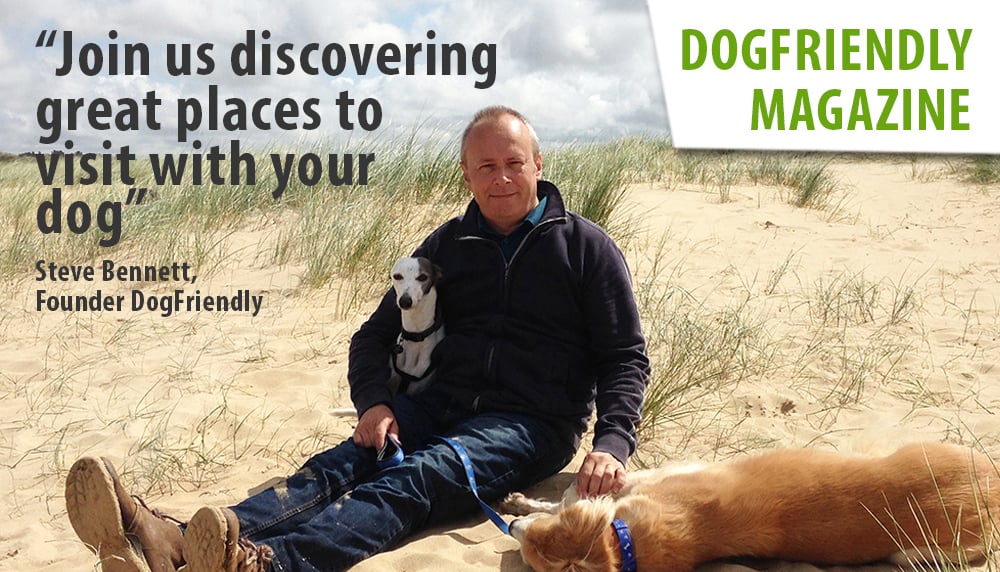 Searching For Dog Friendly Places?
The DogFriendly Magazine contains in depth reviews and features of the best places to visit, stay and play.
Find Out More
About Us
We have the largest database of dog friendly places to visit, eat and services.
We have a team of DogFriendly scouts who research every venue, either by completing a telephone questionnaire or by visiting and testing it in person.
Where We Are
Unit 4 Bramley Road
St Ives
Cambridgeshire
PE27 3WS